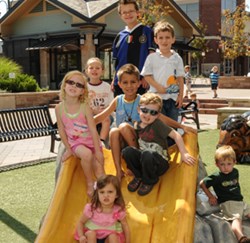 Play areas are a great amenity and they tie in with everything we're doing for families with young children. We are doing everything we can to make this a great place to visit, shop, stroll and spend time.
Aurora, CO (PRWEB) September 10, 2013
According to General Manager Jeff Nemec, Southlands Shopping Center is known for hosting "great venues and events on specific days throughout the year," but he was looking for an amenity that drew crowds without requiring a timed event. "We wanted something open and busy all day long, every day."
As a dad himself, Nemec says he personally understands the popularity of shopping center playgrounds.
"I know every play area from here to Boulder," says Nemec, who has two young children. "I'm at them all the time and I see how long people stay there, how busy they are. Play areas get a devoted following; they get people to stay longer and, hopefully, spend more money."
Therefore, when Nemec was looking for a new amenity for the Southlands' high-end outdoor plaza, he looked to PLAYTIME, LLC, the global leader in indoor, outdoor and water playground equipment.
Southlands now has two outdoor play areas with two different Colorado themes – prairies and mountains. Children can splash in the nearby pop-jet fountain and scurry over to the play areas to romp on the soft playground elements.
The shopping center even hosted a naming contest for the two main play elements in the two play areas. The mountain lion is named "Roary" and the buffalo is named "Prairie."
Nemec says that the PLAYTIME play areas fit in well with the high-end finishes and welcoming "Main Street" aesthetic at Southlands.
"Play areas are a great amenity and they tie in with everything we're doing for families with young children," says Nemec. "We are doing everything we can to make this a great place to visit, shop, stroll and spend time."