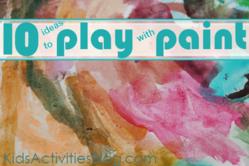 It's playtime for kids and paint!
Dallas, TX (PRWEB) September 07, 2012
Parents and teachers are always looking for new ways to engage children in arts projects. Some kids are resistant to traditional avenues, yet have been reached through less structured art direction like play with paint.
It's Playtime for kids and paint. Finding a way to connect art with something the child already loves makes the introduction to a new project much easier. For example, if the kid collects toy cars then using the wheels of those cars driven through paint can make a fantastic and colorful road.
A younger child may not be able to control a paint brush, but they could tip a cookie sheet lined with paper to roll a painted marble across the canvas. Manipulating paint with magnets can create original art and teach a science lesson.
Blowing on paint with straws or using paint-soaked string to form shapes show kids that everyday objects can be part of the artistic experience. A bit of paint and a rubber band snap will result in a fun and unexpected masterpiece. Showing kids to think about what they see in different ways may start them identifying other ways to play with paint.
Messy projects like paint throwing and paint-filled balloon drops can make an art project a memorable event. Projects don't have to be done indoors where clean up will be a chore. Taking the artistic endeavor outside, can take some of the mess stress away.
Art for kids should be fun. Painting should be fun...and not just about a specific technique.
Kids Activities Blog thinks kids and paint and fun ALWAYS go together. Play with paint just makes sense! Childhood is about fun and that should be a protected thing.