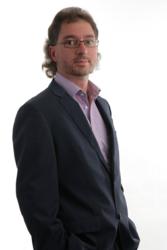 My goal is to bring forward high-quality global platforms that support innovation and product differentiation.
Ottawa, Ontario (PRWEB) January 20, 2012
The AIA today announced its 2012-2013 Board of Directors, which included the re-election of George Chamberlain, President of Pleora Technologies.
Each AIA Director is elected by the Association's more than 300-strong membership to serve a two-year term. Membership is drawn from around the world and includes manufacturers of vision systems and components, system integrators, distributors, OEMs, end users, consulting firms, academic institutions, and research groups directly involved with machine vision and imaging.
Mr. Chamberlain, who co-founded Pleora, a global leader in networked video connectivity solutions for high-speed imaging systems, has been an active AIA Board Member since 2008. In his upcoming term with the AIA, he looks forward to continuing his work on international vision standards.
"Pleora co-founded the GigE Vision® standard and I know first-hand the rewards of truly open, international standards," says Mr. Chamberlain. "As a businessman and an engineer, I understand the technical issues and trade-offs involved in the development process. I have helped bring CoaXPress and Camera Link HS™ under the global G3 (AIA, EMVA, JIIA) umbrella and will continue applying my expertise to projects like these. My goal is to bring forward high-quality global platforms that support innovation and product differentiation to the benefit of the entire industry."
About AIA
Founded in 1984, the AIA was organized specifically to advance the global understanding and implementation of vision and imaging technologies. For more information: http://www.visiononline.org
About Pleora
Pleora Technologies Inc. pioneered the use of Gigabit Ethernet for real-time networked video connectivity and revolutionized industrial imaging. With this spirit of innovation, Pleora engineers networked video connectivity solutions for mission-critical applications. Working with its rich suite of video-over-Ethernet products, Pleora partners with customers to tailor solutions to their individual needs, from definition to deployment, with full integration support. Find out why more military, medical, and manufacturing integrators and OEMS choose--and stay--with Pleora by visiting http://www.pleora.com.
Media contact
Julie Harrison
Manager, Corporate Communications
+1.613.270.0625 ext 164
julie(dot)harrison(at)pleora(dot)com
###