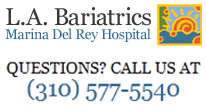 On average, our plicated band patients are losing nearly twice the excess body weight at the three month mark of those patients who have had the lap-band alone
Los Angeles, CA (PRWEB) May 21, 2012
Obese patients have used gastric bypass and lap band surgeries as tools for safe, effective weight loss for over two decades. But the medical community is constantly developing new options to serve the needs of obese patients, and L.A. Bariatrics in Los Angeles is pioneering one of the most promising new bariatric procedures.
In its facility at Marina Del Rey Hospital, the bariatrics group, led by Medical Director Dr. Jeremy Korman, has now performed over 20 plicated band surgeries since January 2012. A hybrid of the lap-band and gastric plication procedures, this new operation has helped several Los Angeles area patients to successfully fight their obesity.
In a gastric plication, the surgeon gathers folds of stomach tissue and sutures them, reducing stomach capacity. Combined with the adjustability of the lap-band, this operation has so far proven to be very safe, and early results indicate that it is very effective as well.
"On average, our plicated band patients are losing nearly twice the excess body weight at the three month mark of those patients who have had the lap-band alone," said Dr. Korman.
"While we don't yet have long term data, this early success can be a great boost to the patient's confidence and enthusiasm, setting them up for continued success down the road," Dr. Korman continued.
One recent patient, Roger Moore of Mission Viejo, has had outstanding results with the new procedure. "It's excellent," said Moore. "I'm really healthy now."
Mr. Moore, a businessman, played college baseball, but for the past decade or so he has struggled with his weight. At his heaviest, he was a few pounds shy of 300, and his doctors told him that he had high cholesterol, was pre-diabetic, and suffered from severe sleep apnea — he wasn't breathing at night because fleshy tissue blocked his airway during sleep.
"That was it for me," he said. "I decided right then and there I needed to do something to get my life back."
L.A. Bariatrics was his first and only stop when investigating surgical treatment. Mr. Moore's wife, Tammara, had undergone gastric bypass with Dr. Korman several years before, and the couple knew and trusted him. So on Dec. 12, 2012, at 296 pounds, Mr. Moore had the plicated band procedure.
Now, at the end of April, Mr. Moore is down to 215 pounds, and has already surpassed his goal weight. He exercises daily, has had little trouble adjusting to the post-surgery diet, has less fatigue and better concentration, and regularly receives compliments.
"I feel awesome," he said. "I have had people tell me I look ten years younger; I told them I feel ten years younger. It's incredible."
While there is not yet long-term data on the plicated band, initial experience has convinced Dr. Korman and the L.A. Bariatrics team that it is a strong option for patients looking to lose significant weight.
Mr. Moore has certainly been satisfied with his treatment. "Dr. Korman is a fabulous doctor," he said. "He gave me my life back. I appreciate it very much."
About Marina Del Rey Hospital
Marina Del Rey Hospital in Los Angeles is a boutique surgical hospital focusing on bariatric, spine, orthopedic, and minimally invasive surgery. The multidisciplinary medical team at L.A. Bariatrics, the bariatric surgery program at Marina Del Rey Hospital, offers patients excellent care. As a Bariatric Surgery Center of Excellence, this Los Angeles weight loss center meets high standards for experience in bariatric procedures and inpatient care.
About L.A. Bariatrics & Dr. Jeremy Korman
Dr. Jeremy Korman is the medical director of L.A. Bariatrics and a leading expert in the field of bariatric medicine, and he has successfully performed over 1,000 weight loss surgical procedures on patients from all over the United States. Dr. Korman and his multidisciplinary team focus on helping patients to realize their weight loss goals and achieve better health. L.A. Bariatrics, located at Marina Del Rey Hospital, is certified by the American Society of Metabolic and Bariatric Surgery as a Bariatric Surgery Center of Excellence, confirming that its staff has extensive, specialized experience and that the facility has passed rigorous inspections. The L.A. Bariatrics team combines exceptional surgical outcomes with nutritional, psychosocial and exercise support for all patients within the program.