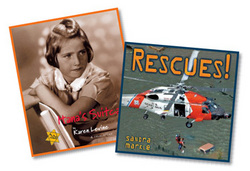 We hope that by offering a variety of scaffolds, students will read a greater quantity of books and more difficult texts
Prince Frederick, MD (Vocus) October 6, 2008
Recorded Books announces the upcoming release of its newest reading and writing program, Dr. Janet Allen's Plugged-in to Nonfiction for grades 4-5. Levels 1-3 of the program, developed for grades 5-12, have already been successfully implemented in over 1,200 classrooms across the country.
Plugged-in to Nonfiction Grades 4-5 includes a collection of high-interest texts and audiobooks for students who struggle with fluency and pronunciation. The program is designed to help students develop the necessary skills to tackle nonfiction text found on standardized tests and in real world situations. Each lesson teaches effective strategies such as monitoring understanding, activating background knowledge, and identifying and using content/specialized vocabulary.
"We hope that by offering a variety of scaffolds, students will read a greater quantity of books and more difficult texts," says Vice President Donna Carnahan, Executive Editor for Recorded Books. "We want to help teachers beat the '4th-grade slump.'"
The collection of titles in Plugged-in to Nonfiction includes the International Reading Association's Children's Book Award winner My Freedom Trip and best-selling favorites like Hana's Suitcase, The Daring Book for Girls and Horrible Science: Angry Animals. The program will be officially released in January 2009, but Recorded Books is accepting orders now. For more information, please contact Karen Stone at 1-800-638-1304 x1410 or kstone @ recordedbooks.com.
Recorded Books Contact:
Beth Eaton: 800-638-1304 x1122
270 Skipjack Road, Prince Frederick, MD 20678
beth @ pluggedintoreading.com
http://www.pluggedintoreading.com
###