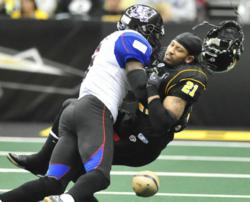 A lot comes from being active in community," Kijowski said. "People seeing the family-oriented business, it definitely helps. The more they see us, the better off we are. The more we can help the better our communities as a whole can become
Youngstown, Ohio (PRWEB) May 12, 2013
More than 150 children from Youngstown, Ohio will be cheering on the Pittsburgh Power arena football team on May 18, thanks to Mr. Rooter Plumbing Pittsburgh Dayton & Youngstown.
Children from E. J. Blott Elementary School and W S Guy Junior High School, both in Youngstown, Ohio, will be traveling the approximate 60 miles to the Consol Energy Center to watch the Pittsburgh Power play the Tampa Bay Storm.
Joe Kijowski, operations manager for Mr. Rooter Plumbing Youngstown, Mr. Rooter Plumbing Dayton & Mr. Rooter Plumbing Pittsburgh, said it was his two sons, Carter, 8, and Christian, 12, who came up with the idea to share the experience with their school mates.
"We've been fortunate that we get to go to a lot of those," Kijowski said. "They love the fact that they're able to do this with other kids from the community. They thought it would be really cool. They're excited for the fact that they are able to share these experiences with other local families. "The school principals also were excited, Kijowski said, and made it a good behavior incentive for the school children to get to attend the game.
Kijowski calls it a "combined effort." The principals are paying for the buses and Mr. Rooter of Youngstown are providing a ticket, a Mr. Rooter T-shirt, a hot dog and beverage to the students and chaperones. Around 10 parents volunteered to chaperone.
"I'm excited," he said. "I'm kind of surprised that we got such a big turnout. I was hoping that we would."
Kijowski said he grew up in Youngstown, which has one of the lowest median incomes for a city in the U.S. with more than 65,000 people. He remembers being raised by a single mother, who worked three jobs to make ends meet, and not being able to attend a sporting event. Now that he can, Kijowski said he wants to expose youths to more than he had as a child.
"Kids are our future," he said. "The more we can do for these children, the better off this country will be in the long run. That's why I do a lot of things with the children. I want them to be able to do the same things my children do."
Being visible in community also has helped business, he said. Mr. Rooter Plumbing Youngstown opened last June with three employees and has grown to 11 employees. The Dayton office, which has three employees, recently opened while they have ran one of the most successful plumbing companies in Pittsburgh for years.
"A lot comes from being active in community," Kijowski said. "People seeing the family-oriented business, it definitely helps. The more they see us, the better off we are. The more we can help the better our communities as a whole can become" Kijowski can be reached at the Youngstown office, (330) 984-0117.