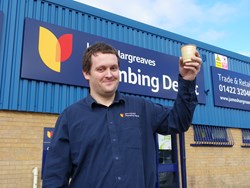 James Hargreaves Plumbing Depot gave me a chance as a counter assistant and I progressed to assistant manager before taking up my current post in 2009
Halifax, West Yorkshire (PRWEB UK) 28 February 2013
The Marshway branch of James Hargreaves Plumbing Depot has reported a record year for trading with turnover rising by £250.000 – including four record sales months, a 25% increase in new customers and the recruitment of two additional staff to cope with demand.
And buoyant manager Dave Patrick insists that the friendliness of his and his six-strong team is a key driver in the outstanding performance.
"Very few plumbers come in, pick up their goods and then go...nearly all stay for a brew and a bit of banter. It's a bit like one big happy family."
"We are known for great service and high stock levels, which are obviously big scoring areas, but I also think that our one-to-one relations with our customers and having time for a quick cuppa and chat with them is a massive factor."
And Halifax-born Dave reckons he has yet to tap into the full potential of the branch.
"Given the recession and the general state of play we have got to be delighted with our results, but I think we can do even better."
Dave, 29, a former pupil at Calder High School, was a holiday rep before turning his hand to the plumbing industry seven years ago.
"James Hargreaves Plumbing Depot gave me a chance as a counter assistant and I progressed to assistant manager before taking up my current post in 2009."
More about James Hargreaves:
Halifax is one of 30 branches in the expanding James Hargreaves Plumbing Depot empire and the firm is now one of the north of England's leading plumbing enterprises. The company also has a growing luxury bathroom showroom division with an outlet in Halifax.