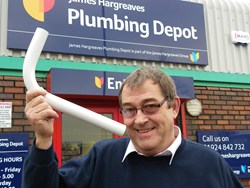 I didn't want to wind down, so to team up with a firm as well respected and progressive as James Hargreaves Plumbing Depot is really exciting.
Wakefield, West Yorkshire (PRWEB UK) 28 February 2013
Duncan, 60, reaches for his pipe. But no slippers in sight for workaholic Wakefield plumbing supplier.
Having reached 60, it is no surprise to see workaholic Yorkshire plumbing supplier Duncan Beech reaching for his pipe...but don't be fooled. The 'pipe' in question is of the plumbing variety and Duncan has absolutely no intention of putting his feet up just yet!
Indeed, he is all set to embark on a brand new challenge as manager of the Wakefield branch of James Hargreaves Plumbing Depot which is set to open its doors for the first time.
Duncan, who has close on three decades of experience in the plumbing industry cannot wait to get cracking following James Hargreaves Plumbing Depot's decision to open their 30th branch on the Thornes Trading Estate in his home town.
"I'm Wakefield born and bred and it is great to be handed an opportunity like this right here in my home town," he said. "The firm has invested £250,000 in the branch and I am very confident that it will prove a great decision."
Having worked in both the private and public sectors – always within the plumbing and building industry – Duncan also ran his own business for 13 years.
"I didn't want to wind down, so to team up with a firm as well respected and progressive as James Hargreaves Plumbing Depot is really exciting. We should be fully open in the next week or so and we have already had plumbers calling in to see us. Knowing the patch and many of the plumbers on a personal basis, I expect trade to be very brisk."