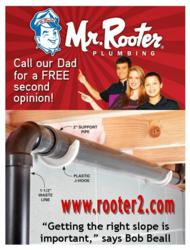 A properly sloped pipe will make the level read plumb (bubble centered in the vial).
Pittsburgh, Pennsylvania (PRWEB) February 18, 2013
Horizontal drain pipe has to be supported on hangers hung from the overhead joists approximately every other joist, according to Bob Beall, licensed-master plumber and president of Mr Rooter Plumbing Pittsburgh, Youngstown and Dayton. "Going too far between hangers will cause the pipe to sag between hangers over time, creating an uneven path for the waste-water," says Beall.
Low sections of pipe will accumulate debris that falls out of the water, eventually clogging the drain line. According to Mr Rooter, hanging drainpipe is done in two stages: First hang the pipe temporarily on its intended path and dry-fit any fittings to make sure everything is oriented properly. "Typically you will have to adjust the pipe and hangers up and down and left and ruight to get the proper orientation and slope (1/4 -inch per running foot)," says Beall. He adds, "once you have positioned the pipe exactly where you need it to be, screw or nail the hangers in place."
Beall says pipe can be hung from plastic or metal snap-on hangers or simply hang it from rolled low-cost perforated metal strapping. "Do not use rolled plastic hanger strap-it will stretch over time and possibly snap," says Beall.
TRADE SECRET: Don't guess when hanging the pipe at the required 1/4-inch per-foot slope. Use a 4-foot level and place it against the drainpipe. Lower the upper end 1-inch (cut a 1-inch wood spacer to make this easy). A properly sloped pipe will make the level read plumb (bubble centered in the vial). You can also use a 2-foot level and lower the upper end 1/2-inch.
Mr Rooter Tip Of The Day
hanging drainpipeTip #1 A single wrap of metal strapping is the most common way of hanging pipe.
Tip #2 For more secure support, wrap the hanger strap around the pipe.
Tip #3 Plastic hangers allow the pipe to snap directly into a cradle.
WHAT CAN GO WRONG: You can't get there from here. It's possible that the toilet flange locator pipe is behind an obstruction and you cannot get a drainpipe to it in a straight line. In this case, you have to use a combination of fittings to get around the obstruction. Make a workaround from small angle fittings such as 45-drgree and 22 1/2-degree fittings with several feet of pipe between; never use a pure 90 or elbow unless you have no other choice.
There's A Reason They Call Us Mr.™
Mr. Rooter is a plumbing specialist in the Pittsburgh greater area that understands the importance of not only skilled work, but also creating a relationship with their clients. The company lives and practices a Code of Values that emanate from respect, integrity, customer focus, and having fun. Treating others with the respect they deserve, listening with the intent to understand what is being said, and acknowledging the importance of the words in accordance with the speaker are just as important as fixing the leak, or addressing any issue involving plumbing. With a strong focus on customer loyalty, Mr. Rooter knows that integrity means doing a job well, and maintaining the clients trust at the same time. For more information, please visit http://www.rooter2.com.
Debra Santavicca, PR, SMM, WebIT
Mr Rooter Media Center
Mr Rooter Tip Of The Day
http://www.rooter2.com
724-553-9510