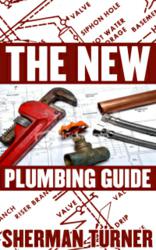 A book reviewer stated, "This book is absolutely priceless."
Buffalo, New York (PRWEB) February 15, 2013
Master-Plumber and Author, Sherman Turner has written "New Plumbing Guide" a book to help home-owners, minorities, and small businesses who know nothing about plumbing. This book will help guide them in dealing with contractors and plumbers to help save, and pay lower guarantee costs by 10 to 50 percent less.
http://newplumbingguide.wordpress.com/
Sherman Turner worked for US government as a top rated Plumbing and Construction contractor for many years. He is also retired member of U.A. Plumbers & Steamfitters Local Union #22, from Buffalo, New York State. Turner has over forty years of various combined experiences in estimating and working in all phases of plumbing work.
The book's first section is dedicated to providing 50 special cost saving plumbing tips to its readers, and small businesses by giving answers to various questions, which guarantees a savings of $100.00 to $1,000.00 in plumbing repair and plumbing emergency costs. This book is a great reference tool, because it gives knowledge and knowledge prevents getting ripped-off, by contractors and by others.
The books second section is designed to help educate minorities, women, and small businesses, who desire to be successful in any type of construction business. Turner illustrates new ways to project-manage government and commercial construction jobs to double your profits. How to use newly designed estimating charts to provide competitive job bids for computer estimates; leading towards doubling profits.
"New Plumbing Guide" book is essential for all home-owners, do-it-yourself-contractors, and plumbing professionals. Institutions of higher learning could use this guide as part of their curriculum. A book reviewer stated, "This book is absolutely priceless."
http://newplumbingguide.wordpress.com/
To purchase the new e-book, visit:
Amazon Cost $3.99 US Dollars
Barnes & Noble Cost $3.99 US Dollars
Please Contact Author, Sherman Turner at 1-716-842-1919 if interested in any type lectures. Call early, in advance for lecture appointments and schedules. Commendations with modest fees are required.
Additionally, Turner has authored the following e-books, listed below:
Minorities Deceived, 2010
Kenya Rehabilitation, 2010
Plumber Speaks, (Questions & Answers) 2013
Son of Kenya, (Obama's Motherland) 2013