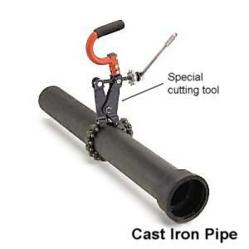 Leaks at hub joints can often be stopped by using a pipe sleeve repair.
Pittsburgh, PA (PRWEB) June 05, 2012
"Because of its low cost and durability," says Bob Beall, president of Mr. Rooter Plumbing in Pittsburgh, Pennsylvania, "cast iron has long been the most popular material for drain, waste and vent pipe." According to Beall, until recently it was also the most difficult to install because of its weight and the difficulty of joining it.
The conventional type, "still in wide use," according to Mr. Rooter, "is connected at bell-shaped hub joints which must be sealed with molten lead and rope-like material called oakum." A newer type, called hub-less pipe, is joined with sleeves and clamps. It can be spliced into an existing system of hub-type pipe to replace a damaged section or to add a new one.
Mr. Rooter says, "Leaks at hub joints can often be stopped by using a pipe sleeve repair."
Two grades of cast-iron pipe are available, service weight and the thicker-walled heavy weight. Use service weight if your plumbing code permits, adds Beall, "it is easier to work with."
"Both weights can be cut either with a saw and chisel or with a special cutting tool. Proper support is more important with cast-iron pipe than any other type, according to Mr. Rooter. "Because of its weight and because the hub-less joints are slightly flexible. Use pipe strap or in some cases, a special clamp is necessary.
Mr. Rooter's Tip Of The Day
Tip #1 The easiest way to cut cast-iron pipe is with a cutting tool available at rental stores. If you are working inside a wall, there may not be enough space to cut the pipe any other way. Cast-iron pipe can also be cut with a hacksaw and chisel. Score the pipe with the chisel; cut the pipe with the saw.
Tip #2 To prepare the joint, a rubber sleeve is slipped onto one end of the pipe. Make sure the pipe end butts firmly against the separator ring at the center of the sleeve. Slide the stainless-steel shield over the end of the second pipe, and position it so that the clamps will be accessible for tightening when the joint is assembled.
Tip #3 To assemble the joint, push the end of the second pipe into the sleeve until it butts against the sleeve separator ring. Slide the shield over the sleeve so that it covers the sleeve completely, then tighten the clamps on the shield. To tighten the clamps, you will need either a screwdriver, a socket wrench or a special wrench you can rent.
Tip #4 To support a horizontal run of hub-less cast-iron pipe at every joint, use a special clamp bolted to a supporting wall. A long run of pipe between joints should be supported every 4 feet.
Mr. Rooter is http://www.pitt sburgh.mrrooter.com [ available 24/7 __title__ ] by using our LIVE chat located here!
There's A Reason They Call Us Mr.™
Debra Santavicca PR, SMM, WebIT
Mr. Rooter Media Center
http://www.mrrootermedia.com
http://www.mrrooterpgh.com
http://www.pittsburgh.mrrooter.com