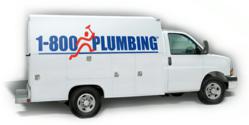 1-800-PLUMBING continues to innovate
Surprise, AZ (PRWEB) April 30, 2012
Many plumbing companies fail to recommend an "upsell" product or service because it may be preceived by the consumer as another method to un-necessarily increase the amount of the sale. However, 1-800-PLUMBING believes that one of the keys to success is educating the consumer.
Alan Cline, President/CEO of 1-800-PLUMBING states: "Anyone who has experienced a flood in their home will definitely see the advantage to these products. After our flood several years ago, we have a water alarm that will alert us when we are home. Now we understand that there are options for automatic shutoff of water before the flood happens. Consumers need to know about these products. Plumbers can be an effective ambassador / educator and I believe that it is the plumber's responsibility to show their customers how to avoid property damage and to show the products and services that can facilitate this. By educating their customers and providing these products, they can help consumers avoid the terrible experience of a flood. At the same time this product will increase profitability. You wouldn't think about driving your car without insurance, so why would you leave your home un-protected from the ravages of a flood?"
Floodstop Products are available for the washing machine, water heater, dishwasher, icemaker, water filter, sinks, toilets, and also a water alarm that is designed to alert the homeowner when moisture is detected. Some plumbers are offering water alarms as a FREE incentive to provide goodwill and help gain customer loyalty!
Floodstop products automatically shut off the water supply and sound an alarm. All other household fixtures and appliances remain operational. With Floodstop, property damage is avoided.
By developing this strategic partnership with Aqua Managers Inc.,1-800-PLUMBING licensees will receive negotiated reseller pricing on these products.
1-800-PLUMBING is in the process of creating a partnership with a GPS company. There have been many advances in GPS technology that can assist plumbers by increasing safety, lowering liability, reducing maintenance cost on vehicles, reducing fuel consumption, and much more. By the middle of May 2012 1-800-PLUMBING will announce a new partnership which will provide an excellent, cost effective GPS solution for fleet management.