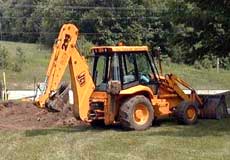 They might end up with a completely busted sewer line that will cost a lot to clean up after.
Portland, OR (PRWEB) August 22, 2012
An account manager at Clog Pro, a Portland Oregon plumbing company with decades of experience in the field, wants homeowners to understand when they will need to replace their main sewer line.
Ana Fraser, account manager at Clog Pro, says main sewer lines for homes are built to last quite a long time. She says that today most lines are made with PVC pipe. PVC stands for polyvinyl chloride, and this polyvinyl chloride piping is very durable. Sewer lines built using polyvinyl chloride, or PVC, piping will likely last 100 years, she says.
Fraser explains that homes built prior to 1980 most likely have a sewer line built from clay piping, and that clay pipes only last 50-60 years.
She warns, though, that since environment plays a role in the lifespan of your sewer line, these numbers cannot be completely relied on. She says homeowners need to watch for cues that their line is going bad as well, or else they might end up with a completely busted sewer line that will cost a lot to clean up after.
Fraser explains two different examples of cues that homeowners can look for to know if their sewer line is too old.
She says that when main sewer lines age, they get brittle and crack. When the pipes get brittle and crack, the sludge that flows daily through the line starts to seep towards the top of the soil. When this sludge starts creeping up, it will create sinkholes with an unpleasant odor.
While a homeowner is outside sniffing the air and feeling the ground for the first cue, Fraser explains, they should also look for rat holes in their yard. Rat holes are smooth, and when filled in, they will reappear due to the rats reusing the holes. Rats often live in sewer drains and feed on the food left in the sewer, so if it is broken to the point that rats can move in and out of the pipes, rat holes may be in the lawn.
Fraser applauds homeowners who stay on the lookout for these signs and says they will catch their main sewer line going out before it sneaks up on them, giving them time to prepare for the process of bringing in a plumber to replace it.
About Clog Pro
Clog Pro has been serving residents in Vancouver Washington and Portland Oregon for nearly 20 years. When people need help with plumbing in Portland OR, they can turn to Clog Pro. Their services include everything from simple plumbing maintenance, to drain cleaning, to excavation and more.