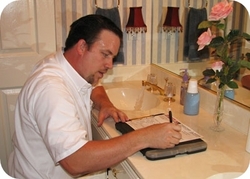 Our real business is not air conditioning, heating or plumbing service – it's customer service.
Fort Worth, TX (PRWEB) June 18, 2010
Berkey's Plumbing, Heating and Air Conditioning, Inc., continues to expand its service area beyond its Northeast Tarrant County roots by extending operations into Irving, Haltom City, Euless, Pantego, Hurst, Watauga and other communities in the central and south areas of the DFW metropolitan area.
Berkey's, a perennial consumer favorite in local newspaper polls in Southlake, Colleyville, Grapevine and other Northeast Tarrant County communities, has enjoyed strong growth throughout the recent years of economic recession. Berkey's president Bill Stevens attributes its success to employee training, an intense focus on customer satisfaction and its one-of-a-kind Universal Protection Plan service agreement.
"Our real business is not air conditioning, heating or plumbing service – it's customer service," Stevens said. "We realize our customers have other options, so we work fanatically to provide an unparalleled home service experience for our customers that leaves them talking about it for weeks and months."
Great service requires great dedication. Each Berkey's employee receives more than 150 hours of training every year to build technical and customer service skills. When Berkey's moved into a bigger headquarters building in March, Stevens established a dedicated training center.
"From our customers' point of view, our plumbers, AC and heating technicians and customer service representatives are the company, so it follows that we must invest heavily in our people," Stevens said.
Also central to the company's success: the Universal Protection Plan service agreement, something unique in the plumbing service and heating and air conditioning industries. It includes annual tune ups on all central heating and air conditioning systems in a home, no matter how many, as well as a "preventive plumbing" inspection each year, all for $99.
Most competitors charge nearly as much for a single tune up on one central air or heating unit. Considering each tune up requires about one hour to complete, the value of a single agreement for all tune ups is immediately evident. Homeowners with one central AC and heating system save money, but for those with two more systems, the savings in tune up costs alone add up to hundreds of dollars each year.
While the service agreement is a loss leader, Berkey's considers it a sound investment in developing long-term customer relationships. Customers like it, too: Thousands buy and renew Universal Protection Plan agreements every year and tell others about it – about half of Berkey's new business comes from referrals. Also, all AC, heating and plumbing service is priced by flat rates, not hourly. Customers know in advance how much a job will cost, whether it takes one day or one hour.
Stevens said Berkey's service area expansion does not come at the expense of any existing customers.
"We thought this through carefully, and we didn't make a move to expand until we knew we could do it without any adverse effect on our long-time customer base in Grapevine, Southlake, Colleyville, Flower Mound and other surrounding areas," he said.
About Berkey's
Berkey's Plumbing, Heating and Air Conditioning has specialized in the needs of homeowners in Southlake, Grapevine, Colleyville and Flower Mound for 35 years. Berkey's reputation for prompt, honest service from licensed and factory trained technicians assures customers the best in professional service, combined with leading brands including American Standard, Rinnai, Toto, InSinkErator and more. Call Berkey's at 1-877-BERKEYS, or visit our Website at http://www.berkeyssouth.com/default.aspx.
Contact:
Lee Pogue
Berkey's Plumbing, Heating and Air Conditioning
817-481-5869
###