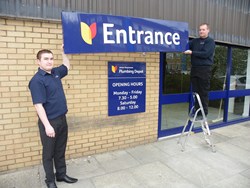 It is very reassuring that James Hargreaves Plumbing Depot has shown such faith in us and we want to make it a great success
Burnley, Lancashire (PRWEB UK) 15 May 2013
Canny Yorkshireman Simon Waite has a particular reason for ensuring his first managerial post is flushed with success – he created it.
For when Simon heard that his employer – James Hargreaves Plumbing Depot – was expanding its Yorkshire operation, he promptly put forward his home-town of Shipley as a potential outlet.
And not only did the bosses at one of the country's leading independent plumbers merchants agree with his suggestion, they took the plunge and asked him to be manager of the new branch.
"It's just amazing – and very exciting," said 29-year-old Simon. "I only joined the company last August and after spells as a floating manager at different branches, including Ilkley and Keighley, I now find myself in charge of the latest one in my home town."
Simon entered the plumbing industry 12 years ago, shortly after leaving Whitcliffe Mount School in Cleakheaton, and believes his experience will stand him in good stead.
The new branch, situated on Acorn Business Park, is due to open by the end of this month where Simon will be assisted by ex-plumber Paul Ducwra, 29, who hails from nearby Baildon
"Paul and I have 25 years' experience between us and we also know the patch very well which we hope will provide an edge in what is a very competitive marketplace," said Simon.
"It is very reassuring that James Hargreaves Plumbing Depot has shown such faith in us and we want to make it a great success."
"To be honest, having come up with the idea I can hardly afford it to fail, can I?!"
More about James Hargreaves:
Shipley is one of 33 branches in the continuously expanding James Hargreaves Plumbing Depot empire and the firm is now one of the north of England's leading plumbing enterprises. Established in 1968, the firm also has six luxury bathroom showrooms.