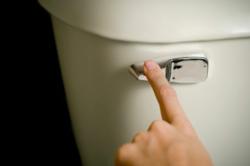 Tank handles are typically chrome, white, brushed nickel, or polished brass.
Pittsburgh, PA (PRWEB) June 20, 2012
"A broken plastic toilet handle is easy to replace," according to Mr. Rooter, Bob Beall, the most referred plumber in the Pittsburgh Pennsylvania and Youngstown Ohio areas. Beall says, "when reconnecting the plastic of metal flapper chain to the handle, it may be necessary to cut or bend the extension arm inside the tank."
Mr. Rooter Plumbing in Northeast Ohio and Southwest Pennsylvania, offers free daily plumbing tips for the consumer at the new Mr. Rooter Media Center available here. Offering a free second opinion to residential and commercial customers has proved to be an exciting way for Beall to offer his expertise 24/7; exactly how he operates his plumbing services. Beall, recently showcased on KDKA in Pittsburgh Pennsylvania, mentions the fact that he is the one who answers his phone, even in the dead of the night. Holidays, weekends and everyday in between, Mr. Rooter Plumbing has licensed master plumbers available for any emergency service calls.
"Tank handles are typically chrome, white, brushed nickel, or polished brass," according to Beall. He notes that the consumer should never get a polished brass lever unless the finish is guaranteed for life.
Mr. Rooter's Tip Of The Day
Tip #1 First, disconnect the valve chain from the extension arm.
Tip #2 Loosen and remove the holding nut by turning it clockwise; it is a left-hand thread.
Tip #3 Remove the handle by pulling it straight out the front.
Tip #4 Insert a new handle and turn the nut counterclockwise.
Tip #5 Reconnect the handle to the flush valve chain at exactly the same location it was removed.
Bonus Tip: It may be necessary to bend or cut the extension arm to correct its position.
Mr. Rooter Plumbing Pittsburgh offers the free second opinion and 24/7 emergency plumbing services.
There's A Reason They Call Us Mr.™
Debra Santavicca PR, SMM, WebIT
Mr. Rooter Media Center
724-553-9510
http://www.mrrootermedia.com