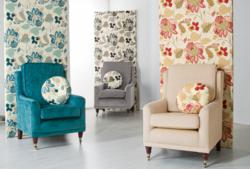 We want to show our new customer that we can and do offer alternative looks to our more conventional appearance.
(PRWEB UK) 25 January 2012
Renowned for their traditional imagery and classic style, Plumbs Loose Covers and Reupholstery specialists are showing they are more than happy to run with the times and cater for the ever expanding audience. After 52 years in the upholstery industry, the family-run business have released a collection of new, creative photography which challenges their solely traditional perception.
Plumb's managing director Sarah Page says, "With interior design and top trends focussing on the beauty of rescuing and recovering old furniture, the interest in Plumbs' services is becoming more and more diverse." She continues, "We want to show our new customer that we can and do offer alternative looks to our more conventional appearance."
With increasingly modern fabric designs coming through from top designers such as Sanderson and Swaffer, Plumbs have produced a range of new photography with a modern twist. This new imagery moves away from the generic living room and gives contemporary alternatives including fabric backdrops and dramatic boudoir looks.
To showcase their new fabric 'Jacobean Opulence', Plumbs were inspired by the idea of co-ordination and colour. Linda Hindle, Merchandise Director says "With such vibrant and fun colours to choose from, we wanted to display them at their best, by partnering with a co-ordinating plain fabric."
The aim of the new looks is to appeal to a wider audience and display the results that can be achieved in re-covering and restoring old furniture.
Despite this new avenue of contemporary design, Plumbs stress their loyalty to their classic image. They claim that the recent new looks are simply to inspire a variety of tastes and show that Plumbs can cater for the modern world.
About Plumbs:
Plumbs have around 150 Home Consultants who will visit homes free of charge. The Home Consultants can recommend an appropriate loose covers solution and advise on room colour co-ordination and any other home furnishings such as upholstery, loose covers for sofas, cushion covers and curtains.
Plumbs have over 350 different upholstery fabric designs and colours to choose from, and a range of materials to suit any piece of furniture.
For further information please contact: Hannah Jones on 01772 838 301 or email hjones(at)plumbs(dot)co(dot)uk
# # #