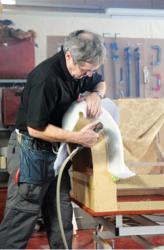 Reupholstering is more of a hobby for many of us upholsterers, it's certainly a passion of mine.
(PRWEB UK) 31 January 2012
The 30 second long advert includes a sequence of the Plumbs' reupholstery process from stripping down the original furniture, to frame repair, and fitting of new springs, cushions and fabric. Chris Plumb, director of the new campaign explains more:
'We wanted to really show the care and attention that we put into every piece of furniture. It can be quite daunting to entrust your furniture to somebody else. This advert is more a reassurance to our customers that their furniture is in the safest possible hands.'
Unlike some companies, Plumbs cast a real-life upholsterer to play the leading role. Mick Delaney has worked for the family-run business for over 30 years and is no stranger to the lime-light. Last year he took to the road to join the Plumbs exhibition team in demonstrating his upholstering techniques live across the UK.
'Reupholstering is more of a hobby for many of us upholsterers, it's certainly a passion of mine.' Mick says, 'Being able to demonstrate that passion to the public is a wonderful thing.'
Plumbs enlisted the help of production company White Noise to help create the right message for their new campaign. Having worked together on previous successful campaigns for both their Loose Covers and Reupholstery services, the team was brimming with ideas.
Alongside the reupholstery process, the advert appropriately displays a before and after transformation and showcases several of the company's other successes. The new campaign will air on ITV3, Home, Channel 4 North and South, CBS Reality and DSC Travel & Living between 6th-26th February.
About Plumbs:
Plumbs have around 150 Home Consultants who will visit homes free of charge. The Home Consultants can recommend an appropriate loose covers solution and advise on room colour co-ordination and any other home furnishings such as upholstery, lose covers for sofas, cushion covers and curtains.
Plumbs have over 350 different upholstery fabric designs and colours to choose from, and a range of materials to suit any piece of furniture.
For further information please contact: Hannah Jones on 01772 838 301 or email hjones(at)plumbs(dot)co(dot)uk
###