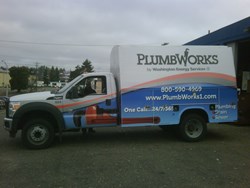 PlumbWorks now donates 1% to assist disabled veterans with plumbing problems.
Seattle, WA (PRWEB) May 31, 2013
PlumbWorks plumbing, a division of Washington Energy Services, announces a new program benefiting disabled veterans. In creating the Disabled Vets with Plumbing Problems, the company will donate one percent (1%) of revenues, starting May 1, 2013 to put toward pro-bono plumbing work for qualified disabled veterans.
"As a former Army soldier who was injured in Afghanistan, I personally know the hardship this can cause families. We want to make veteran's lives easier by helping the best way we can, taking care of their plumbing problems", says Marcus Mosley, Manager of PlumbWorks.
The unique program allows veterans to apply online and tell PlumbWorks their plumbing problem. Once per quarter the company will award plumbing services including drain cleaning, repiping and fixture replacement to one disabled veteran at no cost. The veteran must live in PlumbWorks service area and own the house where the work is done.
This is not a promotional program, but an on-going part of the PlumbWorks mission and business model. PlumbWorks does also have military discounts for those who served our country but don't qualify for this program.
PlumbWorks plumbing provides full service plumbing, drain cleaning and 24 hour emergency plumbing services to King, Snohomish, Pierce, Kitsap and Skagit County residents and businesses. They are the plumbing division of Washington Energy Services, which has provided energy efficient home improvement since 1957. PlumbWorks can be reached at 800-590-4969 and at http://www.PlumbWorks1.com.