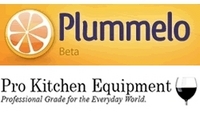 So I got to work on Plummelo, and now everything is much simpler.
Holbrook, MA (Vocus) June 19, 2010
Massachusetts-based company, US Markerboard, the leading online retailer of school and office furnishing supplies, announces a new promotion to introduce people to two great new websites.
Plummelo, a web start-up based in Cambridge, Mass., is an innovative new website that is revolutionizing the way people access recipes and manage their shopping lists in the digital age. Plummelo allows users to collect all of their favorite recipes found on premier cooking sites such as FoodNetwork.com, AllRecipes.com, and MarthaStewart.com, and has also begun partnering with cooking blogs to expand their network of community recipes. Plummelo provides cooks with a central location where they can save their recipes, decide what to cook, and plan their shopping lists. With their Plummelo recipe box always at their fingertips, members won't lose their recipes, and with the shopping list feature, they won't miss that crucial ingredient.
Paul Jin, founder of Plummelo, said he came up with the idea after he and his wife were constantly bewildered by planning a week of meals and shopping for recipe ingredients that were often missing from grocery lists. "My wife and I would get home at six and always ask 'What's for dinner?' We were often unprepared and didn't have ingredients for what we wanted to cook. First you have to make a grocery list, then someone has to go get the food, and everything was very disconnected. Once we started having kids, it got even worse. So we thought there had to be a better way to be more prepared," said Jin. "So I got to work on Plummelo, and now everything is much simpler."
On Monday, June 21, Plummelo will begin a promotional campaign in partnership with ProKitchenEquipment.com who is offering $50 gift certificates to two lucky Plummelo members. Plummelo will also be running additional campaigns in the coming weeks. The cross-promotion is a perfect fit for both parties: Plummelo's service offers everything from the recipe to the shopping list, but they are not in the cooking equipment space. With ProKitchenEquipment.com, Plummelo is now a one-stop shop for any cooking aficionado, and the people at Pro Kitchen Equipment couldn't be happier about the newly formed team. "I think the promotion between Plummelo and ProKitchenEquipment.com is a slam dunk, and most importantly I think it's a great opportunity for Plummelo members. I'm excited to help launch Plummelo and to also introduce Pro Kitchen Equipment to a lot of new people," said Justin Miller, Marketing and Business Development Coordinator at Pro Kitchen Equipment. "Working with the people at Plummelo has been great. I'm confident the site will be a success, and hopefully people will enjoy our products just as much."
ProKitchenEquipment.com is a relatively young enterprise by Scott Newman, CEO of US Markerboard; it features high-quality cooking and serving products with great prices and Newman's trademark exceptional customer service standards (A+ Rating from BBB 3 years in a row). ProKitchenEquipment.com hopes to continue to add new products and expand its selection in the coming months, so if you're a fan of cooking remember to check back periodically.
For more information on Plummelo.com contact: laura(at)plummelo(dot)com
For more information on ProKitchenEquipment.com contact: Justin(at)briteinc(dot)com
###