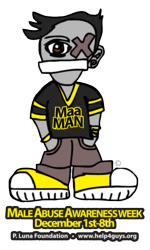 The media has been of little help deepening the conversation about male sexual victimization. We can talk about it now, and we must do so, no matter how difficult this talk can be.
Richard Gartner, PhD at the William A. White Institute
San Diego, CA (PRWEB) November 29, 2011
Inspired by the campaign to fight breast cancer, this campaign is meant to; Encourage people to start talking about this socially taboo subject, inspire young male victims to seek treatment, promote the P. Luna Foundation's web site help4guys.org exclusively for abused males, and raise money to sponsor therapy sessions for young male victims of child abuse.
This year, the P. Luna Foundation is holding their First Annual Educational and Fundraising Event in San Diego, CA on December 5, 2011. Also this year, they are introducing a Male Abuse Awareness Merchandise line with a new and unique mascot character they have created called "Maa Man." M.A.A. stands for Male Abuse Awareness and this merchandise is currently being sold at zazzle.com/maleabuseawareness. These products will also be given away as FREE gifts in exchange for donations to the organization at help4guys.org or plunafoundation.org.
According to Founder Petra Luna, "The time is now to get widespread media coverage for the problem of abused males. This topic has been in the taboo closet for too long."
How does this organization and campaign help abused young males? The effects of child abuse on anyone are devastating and psychologists are just now starting to realize how young males are processing the abuse they have suffered in the past, and how their situation is much different than their female counterparts. Young males are the last to admit weakness and the last to seek help. These males that go without therapy to deal with their hurt and anger are at higher risk for going down destructive future paths like drug addiction, sexual addiction, violent crime, and even suicide. They are also at risk of becoming abusers themselves, and continuing the cycle of abuse in their lives. Getting the help which the P. Luna Foundation is providing will give these vulnerable young males the tools to deal with their anger and express themselves in a positive manner so that they may have hope for a happier, healthier future.
The P. Luna Foundation (PLF) is a registered 501c3 nonprofit organization founded by International recording artist Petra Luna in 2007. In addition to the Male Abuse Awareness Week Campaign Dec. 1-8, the PLF provides several different ways of serving our online community of abuse survivors. The PLF is the premiere portal and hub program with three different online directory listings of the world's top services and resources for the abused. The PLF also has a vibrant volunteer staff who supplements their therapy and healing by working for their cause.
For more info, see the P. Luna Foundation's main web site at
plunafoundation.org or contact Petra at 818.300.2052 or theplunashow(at)aol(dot)com. They are located in Southern California at 5334 Lindley Ave. Suite #136, Encino CA 91319 and in Northern California at P.O. Box 523, San Bruno CA 94066 (for all mail).
###