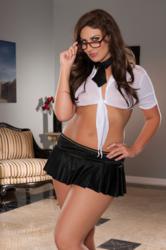 Don't forget that customer service is always just a phone call or chat away and we'll be happy to answer your questions or help you pick something out!
(PRWEB) October 16, 2011
It's finally October—there's that crisp chill of autumn in the air and that means it's time for some spooky Halloween fun on October 31st! Even though it's getting cooler outside, there are still plenty of ways to stay warm in the bedroom and there's no reason to cover up if spending the night with someone special.
All Plus Size Lingerie, a company with locations in Los Angeles, CA and Mt. Prospect, IL, taunts latest halloween collection line of plus size costumes which will spark the imagination for roleplaying fun; any one of their costumes can instantly transform a person into a sexy skipper's mate, alluring housemaid, naughty school girl, racy RN, and more! Halloween is a great time to try something new and dive into fantasies with partner; but it isn't the only time to dress up in plus-size costumes. Plus-size costumes are perfect for Halloween but they aren't only for Halloween—one may very well end up wearing it quite a bit. Many women enjoy dressing up for a special night throughout the year to please their partners and themselves. While Halloween is a big time for these types of sales, the company makes adult costumes available year round so customers can always come back for more later.
Slipping out of one's day to day role and into something slinky and sexy can not only lead to a fun night, but can also help customer's and their partners to discover new aspects of relationship and each other. Sometimes entering a fantasy world is the best way to get in touch with reality. Donning a provocative costume can give a new perspective on sexiness, and plus-size babydolls, panties, mesh tops, mini skirts and dresses are all designed to emphasize gorgeous curves and bountiful assets.
Want to be a caring and attentive lover? Dress up in zip-up vinyl nurse costume with matching hat. Or one can try their racy RN mesh triangle top with matching mini skirt and adorable medical arm band.
If one wants to stir up old memories try their blushing schoolgirl (or make new memories of times one never had), consider their devilish school girl mesh tie top and plaid skirt, or the prep plus size school girl lace up-front plaid purple mini dress. Both of these sensuous costumes will bring back memories of youthful innocence (or youthful naughtiness).
Want to take control? Dress up in bbw policewoman net and stain cami with cuffs, badge, necktie and g-string. Prefer to be on the lawless side? Try their risqué pirate wench costume with skull print halter top and skirt and striped bandana will help abandon one's inhibitions and indulge the wildest fantasies. For another seaside fantasy, try the ahoy mate mesh top and skirt, a sexy sailor uniform which certainly wouldn't pass muster with the real life navy!
"Interested in fantasies of control, but rather your partner had the upper hand? With either vinyl French maid costume (complete with charming ruffles) or our working late mesh halter maid apron with panties, you'll be ready to serve," said Lisa Hopkins, Customer Service Manager at AllPlusSizeLingerie.com.
"Whether you already love lingerie costumes or this is your very first, Halloween is a time each year when we leave behind the mundane world. If you're trying something new, it's the perfect time to buy your first costume and reach out to your partner. The costumes above are just some of the cute, alluring bbw Halloween costumes which are included in our fall line. If you already own a closet full of bbw lingerie costumes, you know what a great deal their products are and will surely find quite a lot to tempt you here. You also know how much fun sexy Halloween costumes are and how they can bring and your partner closer together." adds Lisa Hopkins.
Whatever the fantasies are, one can be sure to find something new at http://www.AllPlusSizeLingerie.com sexy costumes catalogue which will appeal to everyone and their partner on Halloween or any other day of the year when one feel's like leaving the behind the ordinary and exploring your fantasies and desires in a new way. "Don't forget that customer service is always just a phone call or chat away and we'll be happy to answer your questions or help you pick something out!", notes Emily Higgins, Operations Manager at AllPlusSizeLingerie.com
About AllPlusSizeLingerie.com
AllPlusSizeLingerie based in Los Angeles, CA has offices in Redondo Beach, CA and Mt. Prospect, IL with warehouses located in California, Nevada, Pennsylvania and Illinois.
###