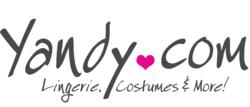 Phoenix, AZ (PRWEB) October 02, 2012
With Halloween quickly approaching, Yandy.com, online retailer of costumes and lingerie, is gearing up for the busy season by vamping up the already expansive collection of standard and plus size costumes.
While Yandy offers a wide selection of standard size costumes, they also offer more than 200 plus size Halloween costumes, one of the largest collections on the web. Yandy's selection of plus size costumes includes the standard witches, nurses, cops and vampires but it also includes unique costumes like deluxe furry bear costumes available in a variety of vibrant colors and only found at Yandy.com. Yandy's plus size costume collection also includes light-up costumes with fiber optic lights and innovative, two-in-one costumes that change from one sexy look to another with the switch of a few accessories.
With new plus size costumes added daily, Yandy shoppers are sure to find what their looking for this Halloween. Past favorites include the plus size Vixen Pirate Wench costume with a black and red peasant style dress and pirate hat and the plus size Gypsy Maiden costume complete with a pink and purple, gypsy style dress and coin trimmed head piece. New to Yandy's collection this year is the plus size Thief of Hearts costume which nods to a sexy version of Robin Hood and the plus size, Can-Can in Paris costume with an asymmetrical can-can skirt, sequin trim and mini hat head piece are sure to top the list this 2012 Halloween season.
Yandy's collection of costumes covers every size and shape, ideal for the average woman shopper. With sizes ranging from extra small to 3X/4X, shoppers and Yandy are always sure to find a costume that is right for them in their perfect size.
Not only are there so many plus size costumes to choose from, every Yandy shopper also receives free, flat rate shipping on orders over $70 and a free panty with every order.
About Yandy.com
E-commerce is on the rise and Yandy.com is one of the largest online retailers of lingerie, sexy Halloween costumes, swimwear and clothing on the web. Founded in 2003, Yandy boasts more than 6,500 products always in stock at easily affordable prices. Yandy ensures that every customer will receive a safe, secure and private online shopping experience and is backed by COMODO online security and Google Checkout. Yandy is dedicated to customer service and only sells what is in stock which allows for quick, same day shipping. Offering the highest quality products at the most affordable prices in the market, Yandy has become a leader in ecommerce. Yandy works closely with all of the manufacturers they distribute for and hand select all of the items on the Web site to ensure customers have the largest and most diverse collection to choose from. In addition, the customer service team at Yandy is unrivaled. With attentive and helpful operators, should a question or problem arise, the customer service team at Yandy is always willing and able to assist. At Yandy, every customer can Be Sexy.
###