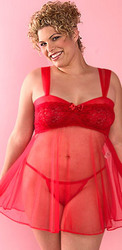 "So in deciding which items to carry, we go to the best resource for guidance on our lingerie - our customers"
Baltimore, MD (PRWEB) July 28, 2010
Even in a down economy, identifying and servicing a market niche can generate big business. That is precisely what mother and daughter team Robin Bryan-Culver and K.C. Culver did when they created their online brand About Curves - and it's all about the curves. Baltimore-based AboutCurves.com targets the growing plus-size womens' market in the U.S. with a sexy twist, capitalizing on the fashion industry's new found respect for plus-size models and actresses.
Being somewhat "ahead of the curve" in terms of serving the needs of lingerie for plus size women AboutCurves.com identified the small niche as far back as 2001 within a crowded online lingerie marketplace, and focused their efforts to fill this underserved segment of the market. To expand on the 'social' aspect of their business, they involved their customers in making product decisions. Creating a successful niche means digging deeper into what sets your business, product or service apart from the competition (or hyper-competition).
"We feel that it's important that women celebrate their bodies in a variety of ways -- enjoying the feeling of silk against the skin, the playfulness of putting on costumes, the exhilarating daringness of revealing skin. But we also feel it's important not to squeeze women's' bodies into outfits that are uncomfortable, disrespectful or poorly made. So in deciding which items to carry, we go to the best resource for guidance on our lingerie - our customers," says Robin, one of the online lingerie company's founders.
In order for an item to be approved for the store, the management team, and participating customers and models must reach a majority vote to agree that they would be proud to wear each piece of lingerie before it appears in their online store.
The women of AboutCurves.com are glad to see that curvy women are finally gaining some recognition in the media; however, size acceptance is still a problem in larger society. Too often, plus-size lingerie items are offered alongside diet pills promising magical results; the fantasy that all women can and should look like models still dominates womens' magazines.
AboutCurves.com is fighting this standard on three fronts, participating in events specifically for women, offering studio presentations, and continuing to include more unique products in their plus size lingerie and apparel line. Currently the online store offers some 300 different products, including traditional babydolls, plus size corsets and bustiers and plus size wedding lingerie.
About Curves' success in serving plus size women should continue as they carry on as an advocate for women to love their bodies, regardless of what number they read on a scale.
"We continue to abide by the simple philosophy that all women are beautiful and that we should all celebrate our curves!" said K.C.
About AboutCurves.com:
About Curves was started in 2001 by a mother-daughter team, Robin Bryan-Culver and K.C. Culver, who were frustrated by the lack of options available to women who do not fit the "model mold." Their mission is to provide women with the ability to feel sexy and to encourage women of all shapes and sizes to celebrate their curves.
Every lingerie and intimate apparel product offered by About Curves is personally approved by a team of discriminating shoppers, and modeled by plus size women in About Curves' very own photo shoots. About Curves owners pride themselves on their insistence that women should not be made to squeeze their bodies into outfits that are uncomfortable, disrespectful, or poorly made, as is often the case across the apparel and lingerie industry.
###