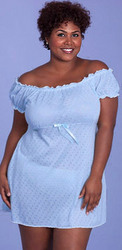 I hope that our new line will allow plus size students to outshine their skinnier friends.
Middle River, MD (PRWEB) November 10, 2010
Despite a growing plus size market, many plus size teens still sleep in an old t-shirt and boxer shorts. With the announcement of their new wild child jrs. line, AboutCurves.com hopes to remedy that problem. Aimed at plus size women in their teens and twenties, wild child jrs. offers pajama-party apparel that's age appropriate and hip.
AboutCurves.com is a top rated etailer of plus size lingerie. They offer items including lace-trimmed camisoles, snug-fitting corsets, and cute cotton pajamas in sizes 16 and larger. Partner Robin Bryan Culver became aware that plus size teens don't have many trendy options: "We pride ourselves on offering the widest selection of plus size sleepwear and plus size lingerie, but our target audience was in their thirties and above." She quickly worked to increase the company's offerings to include plus size lingerie and sleepwear for teens.
Fun isn't just for the skinny
Some teen stores cater to smaller girls, with a few larger sizes thrown in for good measure. But that doesn't mean that these bigger sizes are comfortable for plus size women. At AboutCurves.com, every item is designed specifically for plus size women, which means considering the materials and shape of each item. Every piece of plus size lingerie get the personal approval of their executive shopping team before it ends up for sale. This means that everything they have for sale is designed for, tested by, and specifically chosen for plus size women!
Putting the 'curve' in AboutCurves
As a result of the new line, plus size teens no longer have to hide behind tent-like tanks and huge tops. And many of the cute camisoles and corsets sold on AboutCurves.com can be worn with a jacket to school or to the mall. Additionally, AboutCurves sells cute pajama sets with either pants or shorts, paired with spaghetti-strapped tops. Partner KC Culver said, "When I was in college, many of my friends wore pajamas to class, but I had to wear sweats, because I didn't have any cute pajamas in my size. I hope that our new line will allow plus size students to outshine their skinnier friends."
Pricing and Availability
AboutCurves.com offers lingerie for plus size women including pajama sets, corsets, peignoirs, bustiers and more, in prices ranging from $27.99 to $129.99. Sizing ranges from a 1X (18-20) to a 7X (30-32). Teen-friendly camisoles, edged with lace, are available for $21.99, while bustiers start at $39.99.
Information on AboutCurves.com
When About Curves first began, there were very few options available to women whose bodies or tastes weren't flattered by the lingerie sold in malls. As the nation has started to accept the reality that the average woman in America is a size 16, more options have become available, but About Curves still offers the most styles of plus size lingerie online. From bustiers to babydolls, chemises to gowns, About Curves strives to offer a variety of products in sizes 1X through 7X.
###