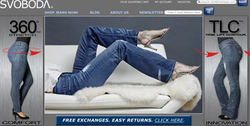 What is driving this demand? A product that delivers the advertising promise. You can't change your body overnight, but you can change the way it looks instantly with SVOBODA.
Santa Ana, CA (PRWEB) April 29, 2010
Jessica Svoboda, founder and CEO of SVOBODA, is pleased to announce a growing customer demand for two product lines of women's and plus size women's jeans, designed specifically for women with curves between the sizes of 6 and 28, or up to a 52" waist. Jeans so comfortable you could sleep in them? Slim and lift plus size stretch jeans that are both high tech and high profile? You can bet your bootie on it. SVOBODA's two premium denim lines for curvy women of all sizes, the 360 Stretch™ and the TLC™ (Trim.Lift.Contour) are selling fast.
360 Stretch ™ jeans are designed for extreme comfort. They combine the fit, style and look of a jean with the comfort of a knit pant. Made of SVOBODA's own 360 Stretch Denim™, these jeans appear similar to other premium jeans on the surface but are actually made of a super-soft brushed knit that hugs your curves. They're designed to look great, but feel fantastic.
TLC™ jeans are actually discreet, comfortable shapewear, made with SVOBODA's own Architectural Denim™, one of the most technically advanced fabrics on the market. It is heavier weight cotton stretch denim made with T-400, which provides multi-directional stretch and one of the highest recoveries available. In other words, these jeans comfortably smooth out the "lumps" and "bumps" other plus size stretch jeans can't, and they won't "sag" or "bag" with wear.
Both product lines have been expertly designed with a curvy figure in mind. They feature a SVELTE™ Tummy Panel and curved waistband, which ensures the jeans don't gap at the back. Additionally, washes, pockets and trims are appropriately sized and positioned to highlight a curvy woman's assets and downplay problems. The result is perfect proportion.
"We have had a few 360 Stretch™ and TLC™ products in the line for some time now, and they have always been some of our best sellers. As a result, we decided in January to focus solely on these two product lines," explains Svoboda.
"Customer response has been unbelievable," Svoboda continues. "Stores that bought SVOBODA exclusively for their larger customers are now stocking the product in the complete size range, while key plus-size wholesale jean accounts have been reordering multiple times a week. The inventory we bought to sustain SVOBODAStyle.com for approximately three months sold out the first two weeks. Although we brought a large percent of our production back to Los Angeles and shortened our production cycle to four weeks, we still can't seem to make them fast enough to meet the demand."
What is driving this demand?
"A product that delivers the advertising promise," says Svoboda. "You can't change your body overnight, but you can change the way it looks instantly with SVOBODA TLC ™. Unlike other brands that claim to deliver all of these product attributes, our product actually does live up to the promise."
Jessica Svoboda is passionate about jeans for everyday women, including jeans for healthy women, jeans for curvy women, jeans for fit women, jeans for muscular women and jeans for plus size women.
Jessica invites fashion magazine editors and plus size fashion bloggers to review both product lines when researching "Best of Denim," "Best Plus Size Jeans," or "Best Jeans for a Curvy Body Type" issues this fall." She believes it is time mainstream media allow women to see themselves reflected within the press. Only recently have magazines started to use curvy and plus size models and actresses on covers and key editorial pieces.
SVOBODA jeans are made in Los Angeles, California, and can be found in luxury department stores as well as high end boutiques and specialty plus size stores in the United States and worldwide. More information is available at the SVOBODAStyle.com website. All styles retail between $118 and $148.
About Jessica Svoboda:
Jessica Svoboda has met countless women at one of their most vulnerable times: in the dressing room, and she has witnessed how fit, healthy, curvy and plus size women have been affected by the media. When she launched SVOBODA in 2004, her mission was to create the best jeans for curvy, plus size women and to be an agent for change in the fashion community on behalf of healthy, real, voluptuous, beautiful women everywhere.
About SVOBODA:
Evolving as a true denim lifestyle brand, SVOBODA offers great fitting jeans and style for curvy women of all sizes, including plus sizes. SVOBODA sophisticated modern classic clothing and trendy plus size women's apparel is designed for petites to tall women and includes loungewear, sportswear, plus size social wear, and plus size career attire.
###