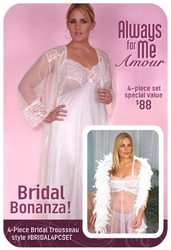 We've listened very carefully to what our customers have told us they want in a bridal trousseau, i.e. garments worn under their wedding gowns; on their wedding nights; and during their honeymoons, second honeymoons or anniversaries
Hauppauge, N.Y. (PRWEB) March 19, 2008
Plus-size brides, those who wear a size 14 and larger, constitute a growing segment of the bridal market, representing an estimated 25% of the annual 2.4 million women, or 600,000 brides-to-be who will marry in 2008. Leading online retailer of plus-size lingerie, AlwaysForMe.com, has found that plus-size brides, and specifically those seeking under wedding gown, wedding night and honeymoon lingerie, have specific wants and needs when it comes to queen-sized styling and fit.
"Plus-size lingerie must be sensuous and supportive", say Susan Barone, Founder and CEO of Always For Me, Inc. "We've listened very carefully to what our customers have told us they want in a bridal trousseau, i.e. garments worn under their wedding gowns; on their wedding nights; and during their honeymoons, second honeymoons or anniversaries", reports Barone. "That's why we're creating our own line of plus-size lingerie: Always For Me Amour. " "The collection will be both flirty and flattering without sacrificing comfort and control". "Always For Me Amour collection promises to be a best-seller for plus size brides-to-be -- as well as a great gift idea for bridal showers."
AlwaysForMe.com is a leading online retail site for plus-sized swimwear, active wear
and lingerie. Founded in 2001 by Susan Barone, a successful apparel industry executive, AlwaysForMe.com serves the needs of the estimated 65 million women who wear a size 14 and up. In less than ten years, AlwaysForMe.com has grown 10-fold to become the premiere destination website for women around the world who prefer to shop from the comfort of their desktops from a selection of name brand designers and/or Always For Me's own design collections. For more information on AlwaysForMe.com please visit http://www.AlwaysForMe.com , call toll-free: 1-888-287-8941, or contact Nannette Fevola at 631-237-4881 extension 309.
###