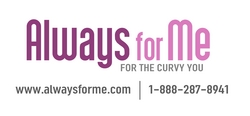 the lingerie strap one piece: the little black dress in swimwear
Hauppauge, NY (PRWEB) July 10, 2008
Hauppauge, N.Y., July 10, 2008 -- Leading Internet retailer of plus size swimwear, http://www.AlwaysForMe.com, reveals its top ten plus size swim suits for women for the summer season 2008.
AlwaysForMe.com Founder, Susan Barone, has analyzed sales and customer reviews from the pre-Memorial Day period through the post-July 4th period, the traditionally busiest time for swimwear purchase. "There are some very clear and consistent winners in plus size swimwear each year." Reports Barone. " The 2008 swimwear season has been dominated by a combination of classic styles and those that mirror the 2008 trends for polka dots, color blocks and bright colors."
Barone's top ten plus size swimsuit list includes:
#1 Ocho Rios Style #78458WA, $79 - http://www.alwaysforme.com/bathingsuit.html - the most popular plus size suit of the summer for one simple reason: this modern, yet retro suit looks great on everyone!
#2 Goddess Style #K80516, $89 - http://www.alwaysforme.com/bathingsuit5.html - curvy women around the world are worshipping this two piece tankini for its vibrant color and adjustable length. Plus size women down under have dubbed this "cozzie" their favorite.
#3 Twist Front Bandeau Style #67163W, $69 - http://www.alwaysforme.com/plusonepiece.html - this is the bathing suit that Seventeen magazine called the "AlwaysForMe.com's twist front bandeau:cutest one piece for plus sizes".
#4 Hilo Style #IO4519-08X, $89 - you can search high and lo and never find a plus size swim dress as fashionable as the Hilo.
#5 Lingerie Strap Style#67165W, $79 - we call "the lingerie strap one piece: the little black dress in swimwear" for its classic line and elegant look.
#6 Santo Domingo Style #78459WA, $89 - this two-piece skirtini marries two of this year's trends: a retro design focusing on dots.
#7 Twist Front Swim Mini Style #67164W, $79 - we've improved on perfection by adding a "just the right length" skirt to the classic twist front bandeau.
#8 It Figures Style #3809060, $112 - a season favorite, this two piece, color striped tankini is fun and flattering.
#9 Miraclesuit Style # 62731W, $138 - no plus size swimsuit wardrobe is complete without at least one Miraclesuit. The Sonatina style was featured in O, the Oprah magazine and on the Oprah show as one of the "Top Picks for Summer".
#10 Guadeloupe Style #78457WA, $79 - why go to the Islands when they can come to you? This Island-inspired two piece tankini comes in the season's hottest colors to complement any skin type.
Barone adds, "Today, there are more styles and more selection in women's plus size bathing suits than ever before. " "AlwaysForMe.com is proud to be at the forefront of the movement to bring fashion forward designs to plus size swimwear ". "With over 62% of American women and a significant number of women in Canada wearing a size 14 and up, it's definitely time for the long underserved plus size market in North America to have their pick of figure flattering styles at prices they can afford."
AlwaysForMe.com is a leading online retailer of plus size swimwear, active wear and lingerie.
Founded in 2000 by Susan Barone, a successful apparel industry executive, AlwaysForMe.com serves the needs of an estimated 65 million women who wear a size 14 and larger. For more information on Always For Me, Inc. please visit our website at http://www.AlwaysForMe.com, or call toll-free, 1-888-287-8941.
###