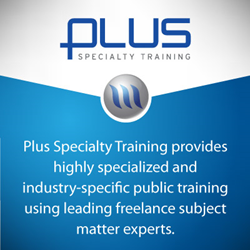 Your Development, Our Passion
(PRWEB) December 30, 2014
It is critical for organizations to become a "talent magnet" and to create a steady pipeline of highly skilled people. Employee development therefore should be seen as an investment, not a cost, in winning the war for talent.
Plus, as a new division of Meirc, was created in order to help organizations overcome industry and job-specific skill gaps; as such, Plus' programs will be created based on the specialized needs and requests of Meirc's clients.
"We are forming agreements with the best in class subject matter experts, practitioners, and technical trainers and will apply Meirc's quality standards in both trainer delivery and content " said Ramy Hakim, Director at Plus. "We believe that our business model will enable us to deliver high quality and reliable training solutions to organizations in the MENA region."
In the coming months, Plus will launch its initial suite of 5-day public programs in specialized and industry-specific subjects, to be held in Dubai in 2015.
About Meirc
Meirc Training & Consulting is an independent multinational firm with 56 years of experience in helping regional organizations develop their human capital in all fields of management.