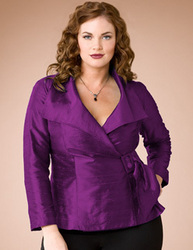 We are very happy to add size 12 to our collections
San Francisco, California (PRWEB) December 5, 2007
IGIGI, http://www.igigi.com , provider of contemporary collections designed to fulfill the lifestyle of the beautiful, voluptuous, and confident woman, today announced the addition of size 12 to its collections. The company introduced an initial collection of dresses and tops to address the needs of the customers who could wear neither a straight nor a plus 14. A comprehensive work collection made up of separates including jackets, pants and skirts in sizes 12-30 is to follow soon in later December.
"We are very happy to add size 12 to our collections," said Yuliya Zeltser, IGIGI Founder and Designer. "It is hard to shop for a woman who is in between straight and plus sizes. Straight size clothes are small and plus size clothes are too big. We had many size-14 shoppers saying that they really wanted to buy IGIGI, but our size 14 was too big for them. We did our homework, listened to our customers, and decided to come out with plus size 12 with a goal to fulfill their wishes."
Some of the pieces in the collection include pure Silk Dupioni Wrap Blouse in fuchsia, peacock, terracotta, and gold; Velvet Wrap Dress with Silk Charmeuse Ties in purple, and green, and Lucille Cocktail Dress adorned with beautiful lace in red and black.
Headquartered in San Francisco, CA, IGIGI designs, manufactures, and distributes apparel and accessories for fashion-loving women in sizes 12-32. IGIGI designs are created with a goal to accentuate and celebrate the beauty and sensuality of the curvaceous female figure. IGIGI apparel and accessories can be found online at http://www.igigi.com , as well as at specialty boutiques and stores worldwide.
###