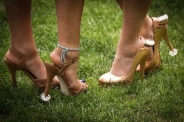 Starlettos are inconspicuous heel protectors that fit onto shoe heels, preventing them from sinking into the grass.
Sydney, Australia (PRWEB) October 18, 2012
An Australian-designed high heel protector, Starlettos, could have saved the country's Prime Minister, Julia Gillard, from an embarrassing fall in India this week, believes the product's designer, Ilde Naismith-Beeley.
The incident, the latest in a series of 'footwear malfunctions' experienced by the Australian PM, resulted from her heel becoming embedded in the grass near the Ghandi Memorial. Ms Gillard was on her way to a press conference.
"Starlettos are inconspicuous heel protectors that fit onto shoe heels, preventing them from sinking into the grass" says Ms Naismith-Beeley. "They are very popular with bridal parties at garden weddings, and for those attending the horse races and polo, but its clear now that they can be helpful to those in the public eye".
Earlier this year, in August, Ms Gillard slipped out of a shoe as she took the stage at an event at Sydney's Customs House.
"Starlettos could have prevented this incident as well" says Ilde. "They have been designed to give extra grip, which is particularly beneficial for those negotiation stairs while wearing heels."
"In these days of instant communication and social media, these incidents, unfortunately, can go viral, and its disappointing to see how the media has featured Ms Gillard's fall on the front page of today's newspapers, and television shows are replaying the fall."
The Starlettos team is sending Ms Gillard some Starlettos to help prevent similar incidents in the future.
"We did send some to her office last year, and the staff admitted they took a while to work out what they were!" said Ilde. "But after these latest mishaps, I don't think that will be a problem - so we are sending over some of our latest ones, with our compliments."
Information about Starlettos high heel protectors can be found at Starlettos.com
About Starlettos
Australian-designed, globally-loved.
Starlettos are high heel protectors with a focus on design. They are easily slipped on and off stilettos and high heels to prevent them from sinking into grass at high-fashion outdoor events. With the added benefit of a non-slip base they provide the wearer with red-carpet confidence at events where high heels star: weddings, proms and awards ceremonies.
Starlettos are the brainchild of Australian Ilde Naismith-Beeley, and were the result of her own desire to wear beautiful shoes at her outdoor, on grass, wedding. In the process of creating Starlettos, Ilde solved two other stiletto-wearing-bride dilemmas - instability on stairs and dance floors, and potential damage to the wedding dress.
Discover more about Starlettos, to find a stockist, or to order online, visit Starlettos.com