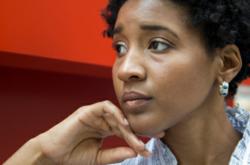 83% of Latina, Black, and Asian women report experiencing discrimination.
San Francisco, CA (PRWEB) September 08, 2011
In a continuing effort to help increase understanding and awareness of a condition that causes tremendous suffering to millions of American women, Dr. Daniel Heller and PMS Comfort are calling attention to recent research showing yet another non-medical factor in Premenstrual Dysphoric Disorder, also known as PMDD. Minority women who feel discrimination based on gender, race, age, weight, height, or other characteristics are up to five times more likely to have PMDD, a debilitating form of PMS that can appear similar to clinical depression. A study published recently in the Journal of Women's Health showed that women who perceived even subtle prejudice were more likely to have PMDD: in fact, this study found that subtle discrimination contributed more to PMDD than did the overt variety.
Accentuating the importance of these results, a September 2011 study from the American Journal of Public Health found that discrimination and racial segregation are significant contributors to mortality, continuing the steady drumbeat of scientific conclusions showing that the experience of discrimination contributes to heart disease risk factors, high blood pressure, overall mortality, and mental health and depression.
The PMDD study looked at the experiences of over 2700 minority women, 83% of whom reported experiencing discrimination over their lifetime. Most of the participants in the study were employed, healthy high school graduates, mostly Black or Latina, with about 20% Asian women included. The study was part of the doctoral dissertation for the Yale University School of Public Health by the lead author, Corey Pilver, Ph.D., now a researcher with the Veterans Administration.
Women with PMDD experience severe PMS mood symptoms including depression, anxiety, anger, mood swings, loss of interest in normal activities, as well as the physical symptoms of PMS such as cramps, bloating, and weight gain. Roughly 8% of women in the U.S. have PMDD (Journal of Psychiatric Practice, 2008), while 85% of all women will experience PMS symptoms during their lifestime. (womenshealth.gov, American College Obstetricians and Gynecologists.)
Research has already shown that perceived discrimination increases the chances of depression, anxiety, substance abuse, and post-traumatic stress disorder (PTSD), (American Psych. Assoc., July 2009) but this was the first indication that it could play a role in a condition ordinarily thought to have more to do with sex hormones, brain chemistry, and lifestyle factors. PMDD is, however, known to be associated with general life stress and daily stressors.
In the study, discrimination due to age, race, or other reasons nearly doubled the odds of having premenstrual symptoms, while discrimination due to gender made premenstrual symptoms two and a half times more likely.
Because PMDD increases health care utilization and costs, and decreases work productivity and personal fulfillment, even subtle discrimination carries a great cost to society and to employers. While cultural and social taboos prevent much overt discrimination, subtle bias is more pervasive. Over the course of their lifetime, this prejudice takes a measurable toll on the health of minority women.
The PMDD study focused less on the still potentially debilitating condition premenstrual syndrome (PMS). Moderate and severe PMS are more common than PMDD, and can also impair a woman's ability to live and work. Thus, discrimination against minority women, and the PMDD and PMS it contributes to, can be assumed to be more prevalent, costly, and damaging than this study revealed.
About PMS Comfort and Dr. Daniel Heller:
PMS Comfort is an online e-commerce brand with a website dedicated to educating, informing, and empowering women with PMS and PMDD, and to providing natural relief from premenstrual symptoms. The PMS Comfort website includes a premenstrual symptoms self-assessment tool, as well as research-referenced articles on PMS symptoms and Dr. Daniel Heller's PMS Comfort Blog. Contact pmscomfort(at)pmscomfort(dot)com or 773-599-9767.
###