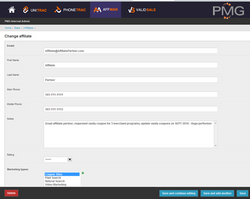 This new suite of affiliate management tools...raises the bar on what an affiliate management agency can deliver.
Boulder, CO (PRWEB) July 22, 2010
Paulson Management Group, Inc is pleased to announce a new suite of affiliate management tools designed to complement the current affiliate technologies and premier affiliate management services available exclusively to their clientele. This new suite of affiliate management tools, which includes such innovative new technologies as UniTrac™, a universal tracking pixel for merchants with an affiliate program running in multiple affiliate networks, and CouponFeeder™, which delivers an RSS feed of all current PMG merchant coupons directly into the affiliate's inbox, raises the bar on what an affiliate management agency can deliver. PMG has already broken barriers, becoming the first affiliate marketing agency to produce and integrate affiliate videos into affiliate networks. PMG was also the first affiliate marketing agency to launch a weekly video series, PMG-AffiliateTV, devoted to tracking what's new in the affiliate marketing industry.
Located in Boulder, Colorado, Paulson Management Group, Inc is located in the middle of one of the hottest centers of technology in the country. Boulder plays host to sundry tech start-ups and tech mainstays alike, from outpost offices of Google and I.B.M. to many of the tech start-ups that have gone through TechStars, a tech start-up mentor program that has been spurring Boulder's growth as a center for innovation and technology since 2007. According to a recent article in the New York Times, Boulder has successfully pitched its bid as "the next Silicon Valley" because, unlike so many cities that are also vying for the distinction, Boulder offers that elusive "mix of money, universities, a high-tech talent pool and appealing lifestyle needed to hatch tech start-ups." Paulson Management Group, Inc has taken advantage of the rich pool of technologically savvy, innovative thinkers drawn to Boulder to build a highly efficient dream team staff.
Paulson Management Group, Inc is proud to distinguish itself with the development of affiliate management technologies, many of which are new to the affiliate industry. The affiliate marketing industry itself is rapidly evolving, opening new opportunities to affiliates and merchants alike, and Paulson Management Group, Inc remains on the cutting edge, anticipating the next need and filling it. The new suite of affiliate management tools includes the following:
UniTrac™ - The UniTrac™ universal pixel is ideal for merchants with programs in multiple networks. The UniTrac™ system calls the right pixel to fire when a client is in multiple affiliate networks, ensuring that the client does not pay multiple commissions to one affiliate for a single sale.
PhoneTrac™– PhoneTrac™ tracks affiliate phone sales and ensures that affiliates are paid a commission for phone sales originating from links they sent to a merchant site. Affiliates do not like losing their traffic to a merchant's call center, and most merchants are happy to pay for valid sales, so the PhoneTrac™ system is an easy solution for both. Affiliates are paid only when there is a valid sale, not on the amount of time a consumer lingers on the line, and this system does not utilize multiple 1-800 numbers, which can cause serious brand confusion. The PMG PhoneTrac™ system is simple to integrate and works only when a consumer passes through an affiliate URL. Direct customer calls are not affected by the system.
Affman™ – The AffMan™ affiliate management system was developed to enable PMG team members to easily recruit affiliates to merchant affiliate programs from an internal database of hundreds of thousands of affiliates quickly. The AffMan™ affiliate management system organizes affiliates by different unique variables, allowing PMG team members to efficiently sort and find the best affiliates for their managed programs. The AffMan™ affiliate management system can quickly mine data that has taken years to accumulate, to match affiliate programs with the right affiliate partners, which will result in an increased volume of producing affiliates to assist in leveraging greater sales.
ValidSale™ – The new PMG validation tool assists in locating affiliate sales that should be de-commissioned. If a merchant is not pulling in affiliate ID values next to order ID's, The ValidSale™ system can scrum their sales lists and assist in matching the right data points, ensuring only sales that were returned, canceled, or refunded are decommissioned.
CouponFeeder™ – PMG has created a coupon and offer page for all affiliates of programs under PMG's managed care. PMG merchants' coupons and offers are added to, and maintained in, the CouponFeeder™ -- The CouponFeeder™ database, and easily accessible to affiliates. Interested affiliates can also receive the coupon and offer information via RSS feed.
CrunchURL™ – CrunchURL is PMG's own URL shortening service, allowing PMG to offer more in-depth analytics to clients, and better monitoring of the efficacy of social media campaigns.
Paulson Management Group, Inc affiliate managers are able to monitor their client merchants' affiliates, as well as their competitors' affiliates, usage trademark and brand terms in Google, Yahoo! and MSN. PMG has an affiliate recruiting team that is able to recruit affiliates to programs under their managed care using top affiliate industry recruiting tools such as Syntryx.com, which has a database of over 1.6 million affiliates in every vertical imaginable.
Highlights of PMG Affiliate Program Management Services:
> The PMG affiliate management team will develop a LIVE affiliate training webinar for all client affiliate programs to ensure affiliates are properly trained on how to market each program.
> PMG affiliate team members have access to the PMG online collaboration interface and project management tool allowing for daily transparency and effective team task allocation, allowing merchant clients to receive a report of daily work efforts via RSS.
> PMG is the only affiliate management company producing affiliate videos and integrating merchant sales videos into affiliate networks as part of the affiliate media lineup for client programs. Video is popular with consumers, video can go viral, and video can increase a brand's exposure and sales.
> PMG uses Syntryx.com, allowing team members access to over 1.6 million affiliates from many of the top networks. PMG has been developing relationships with many top affiliates for more than a decade, and maintains a large network of super affiliates willing to promote their programs.
> PMG has exclusive affiliate network relationships and can offer deeply discounted network pricing. In many cases, PMG can obtain a no cost network launch for a new program saving the client thousands.
> PMG can put a 4-person team on an affiliate account, often for less than the cost of one internal employee, saving the client thousands each year in employee costs.
> PMG is able to develop affiliate program support materials such as affiliate videos, affiliate widgets, micro sites, landing pages, dynamic media, flash and animated banners, as well as assist with custom affiliate network integration, or the creation of an affiliate communication blog or affiliate forum.
> PMG uses top industry affiliate monitoring tools to monitor affiliates in paid search, as well as in social media to ensure each program's terms of agreements are being met, and the company is being effectively marketed by program partners.
> Affiliate management services can include launching a brand in multiple affiliate networks in the US or internationally. PMG affiliate managers can generate aggregated affiliate reports, as well as organize multi-network strategies that will explode online sales.
About Paulson Management Group, Inc.
Paulson Management Group, Inc. is a full service multi-channel, e-marketing management and consulting agency. Paulson Management Group, Inc offers affiliate program management, paid search engine management, social media management, and SEO management. Interested parties should call 800-384-7760 for more information on services offered by Paulson Management Group, Inc.
# # #