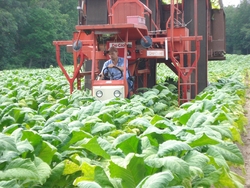 Supporting families and strengthening local communities is exactly what we hope to achieve with the ITP Scholarship program. At Philip Morris International, we're proud to be associated with hard-working men and women like Davey, Ryan and Myra - scholarship recipients who are clearly making a difference in agriculture, their companies and their communities
Richmond, VA (PRWEB) December 11, 2009
Since 2001, Philip Morris International (PMI) has provided scholarships to hundreds of students from tobacco-growing communities. These scholarships are available to children of growers who are part of PMI's International Tobacco Procurement (ITP) program. "The program aims to assist the families who provide us with high-quality tobacco for overseas markets," says Lee Ryan, PMIM SA Director of Agricultural Programs.
Scholarships are available for two-year vocational/technical degrees and bachelor's degrees, and are not limited to agriculture-related fields. "An important goal of the scholarship program is to help sustain the communities where we do business by supporting the next generation of leaders," says Ryan.
A Leader in Tobacco Farming
"Farming is all I've ever wanted to do," says Davey Ferrell, 20, a PMI scholarship recipient and recent Virginia Tech graduate. Ferrell is already back home on the family farm in Wylliesburg, Va., growing 150 acres of tobacco and 800 acres of soybeans and wheat in partnership with his father, Timmy, and brother, Kevin. They also raise cattle.
"Agriculture is so competitive now, the farm really is an agribusiness," Ferrell says. "You have to decrease production costs, increase yields, manage labor expenses and improve efficiencies - all while producing a quality product. A good management strategy is key. I went to a land grant university, thinking a two-year ag technology degree will help a lot on our farm from a management standpoint.
"The PMI scholarship funds helped out a great deal," he says. "Virginia Tech is a state school, and every year they've had to raise tuition to deal with state budget cuts.
"The ITP Scholarship meant a lot to me because it helped financially, but also because we raise tobacco for PMI," says Ferrell, a fourth-generation tobacco farmer. Now he's putting his education to work mechanizing the family's tobacco operation and improving on-farm efficiencies.
"Today we've got two mechanical tobacco harvesters, and a conveyer system to unload tobacco leaf at our curing barns," Ferrell adds. "We really strive for quality, to provide the best possible tobacco for PMI. I believe quality tobacco will always have a home."
From the Tobacco Barn to Biodiesel
Now a process engineer for Southern Indiana Biofuels in Newburgh, Ind., Ryan Simpson is also a former PMI scholarship recipient. He received funds each year for four years through the ITP Scholarship program to obtain an engineering degree from Western Kentucky University.
"It helped me out a lot," says Simpson, who's currently pursuing a master's degree in chemical engineering. "I don't come from a very wealthy family, and they couldn't provide much financial backing for school.
"The ITP Scholarship was a lot of money. My tuition averaged $5,000 a year, and PMI covered most of it," Simpson adds. "I didn't have to take out as many student loans. It gave me a step up when entering the business world."
Now that he's in the business world, Simpson is making biodiesel from waste vegetable oil and chicken tallow. "I control how we produce the fuel, and experiment with different production methods in the lab," he explains. "Right now, I'm designing a distillation system for our plant."
Although Simpson's family sold their tobacco acreage a few years ago, they still raise cattle and grow 600 acres of corn in Metcalfe County, just east of Glasgow, Ky. Simpson still feels connected and involved in agriculture. "A lot of the biofuel produced at the plant has an end use in ag vehicles such as tractors and semis," he says.
Small Town Girl, Big City Career
Previous ITP Scholarship recipient Myra Johnson Parker is now a CPA with Ernst & Young, LLP in Raleigh, N.C. She was granted funds every year for four years as she pursued a bachelor's degree in business administration from the University of North Carolina. Parker also received a PMI scholarship for her master's degree in accounting from UNC.
"I'm very grateful for the PMI scholarship. It helped put me through school," Parker says. "It's a nice reward, and shows that PMI cares about the growers' children and wants them to succeed."
Parker considers herself blessed to have grown up on the family farm. "The values, the work ethic you learn are invaluable," she adds. "It teaches you character."
Parker's family has been farming for several generations. "My great grandfather Henry Johnson was a county commissioner, owned a dry goods store and farmed in rural Johnston County," Parker says. "Then my grandfather, Dennis, took over the farm. My grandmother had a bank job, but was still very involved on the farm. During the summers, she'd drive the truck hauling the tobacco from the field to the barn.
"My dad, H.M. Johnson, went straight out of high school back to the farm," Parker adds. "And my mother is a CPA who has always maintained a full-time professional job, and has also kept the farm books. Then in the afternoons, she'd come home and work with my dad." Although the family has not grown tobacco for two summers, they continue to grow corn, soybeans and hay. They also raise beef cattle.
Today, Parker and her husband live close to her parents' farm and attend the Hickory Grove Advent Christian Church. They also volunteer at fundraising events for the Strickland's Crossroads Volunteer Fire Department, where her dad serves as fire chief.
"Supporting families and strengthening local communities is exactly what we hope to achieve with the ITP Scholarship program. At Philip Morris International, we're proud to be associated with hard-working men and women like Davey, Ryan and Myra - scholarship recipients who are clearly making a difference in agriculture, their companies and their communities," says Ryan.
Scholarship applications for 2010 are due Feb. 1, 2010. For more information about the ITP Scholarship program, contact your local PMI receiving station.
# # #