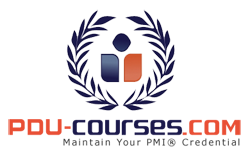 Earning PDUs is not necessarily as challenging or daunting as many PMP Certified Project Managers might think.
New York, NY (PRWEB) October 28, 2011
PDU-Courses.com announced that they have added several new courses to their online trainings, with the details provided on their web site. These courses are particularly beneficial for PMP Certified Project Managers who need to earn Professional Development Units (PDU) to maintain their PMP status.
Indeed, one of the benefits of a Project Management Professional (PMP®) certification is that the credential itself is managed to retain its value by remaining up-to-date.
The method selected for ensuring that the credential holders are proactive in developing their skills and knowledge is the use of Professional Development Units or PDUs, like those provided at PDU-Courses.com web site. A PDU is earned for each hour of relevant training or professional development activity. For example, holders of the PMP must earn 60 PDUs every three years from the date of the certification award.
In the real world however, most Project Management Professionals (PMP®) find it a real challenge to earn the required PDUs every few years. In fact, a large majority of PMI Credential holders fall further and further behind obtaining their credits for maintaining their hard-earned certifications. Lack of time is the biggest culprit, lack of planning and discipline another. But the biggest issue is that most people have no idea about the available options at reasonable prices.
Earning PDUs is not necessarily as challenging or daunting as many might think. Using online courses at PDU-COURSES.COM is actually quite easy, and it can fit into the regular routine of the career goals that most professionals have. For more information please visit http://www.pdu-courses.com.
# # #