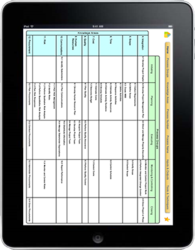 Mastering the flow of information between processes is essential to being an effective Project Manager and to passing the PMP Exam.
New York, NY (Vocus/PRWEB) March 08, 2011
PMCHAMPION.COM, a leader in creating Project Management applications for smartphones and tablets, just released their new iPad application called "PMP® Processes". Everything you need to review and memorize the processes of the PMP Certification Exam are now located in one place.
In August 2010, the PM Network magazine, published by the Project Management Institute (PMI), praised the iPhone version of this app as a useful tool for project managers. Today iPad users will likely find this new version to be just as beneficial.
For Project Managers, the ability to run projects smoothly and professionally could not be effectively accomplished without the aid of the 42 Processes of the PMBOK Guide. Mastering the flow of information between the processes is also essential to passing the PMP Certification Exam. The advent of smartphone and tablet applications provides students and professionals with the ability to instantaneously and repeatedly access study materials, any time and any place. As the saying goes "Practice Makes Perfect."
The "PMP® Processes" app is also an indispensable tool for companies who aim to implement PMI's project management guidelines within their organization, thus adopting proven industry standards and language essential to their projects' success. This application offers the ability to sort processes by Knowledge Area, Process Group, Process Name and Process Number; aiding in project planning and execution. Each process provides quick access to the list of Inputs, Tools & Techniques, and Outputs (ITTO) as well as some general information about where each process is described in the PMBOK Guide. Furthermore, since outputs from one process often become inputs to other processes, the software has been designed so that each ITTO can be tracked. This is the best way for project managers and PMP Certification candidates to organize their thoughts, and the fastest way to capture the complex flow of information between the PMBOK processes.
About PM Champion: PM Champion provides online training for the Project Management Professional (PMP) Certification Exam, as well as tools for smartphones and tablets. Many of PM Champion apps have been praised in various online magazines. To learn more, search for PMCHAMPION in the Apple Store or visit http://www.pmchampion.com
PMI®, PMP® and PMBOK® are trademarks of the Project Management Institute Inc.
# # #