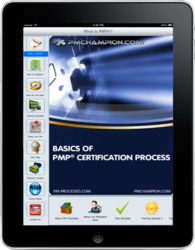 The new iPad app gives an overview of the PMP Exam, eligibility criteria, costs, and answers most initial questions asked by potential candidates.
New York, NY (Vocus/PRWEB) February 07, 2011
Today PMChampion.com, a leader in creating Smartphone applications for the PMP Exam preparation, announced the release of their first iPad application. The new app is called "What is PMP?" and provides Project Managers with the information needed in order to take the next steps towards obtaining Project Management Professional (PMP) status.
The new iPad application defines the Project Management Professional (PMP) certification process giving a clear understanding of the composition, goals, and advantages of joining the PMI and obtaining PMP status. In addition, it gives an overview of eligibility criteria and costs, and answers the initial questions asked by most test-takers. "What is PMP?" also explains the PMI application process, questions format, subject area break down, time limits and answer strategies. The application then directs test-takers to additional apps providing test samples and exam tips. Plus, "What is PMP" provides suggestions for appropriate PMP online training packages.
PM Champion offers online courses for the PMP Exam. These courses include 35 hours of video created by OSP International LLC, a Registered Education Provider (R.E.P) of the PMI. They not only prepare candidates for the exam but also provide a certificate of completion for 35 hours of project management training. This certificate is required by the PMI in order to register for the PMP Exam. Some of the many features available are: a typical PMP study plan; chapter summaries, tables and documents on the PMBOK processes; some of the toughest PMP exam questions; flash cards; 12 chapter tests and three complete exam simulations. What's more, these training packages are risk-free and guaranteed until students pass the exam. PM Champion also offers PMP applications for Blackberry and Android smartphones.
The new iPad app delivers a list of PM Champion training packages, the various features provided for optimum test preparation, and even a list of PDU courses for those who already passed the exam.
# # #