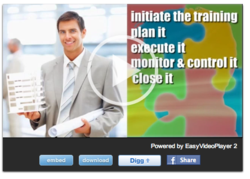 Latest changes to the PMP Exam took effect on August 31, 2011.
(PRWEB) October 28, 2011
Today, companies insist on having a PMP Certification from their Project Managers, and passing the PMP Exam is considered as a first step towards responding to companies' needs. For instance, PMChampion.com's online training packages includes 38 hours of videos, a study plan, flash cards, formula-based questions, chapter tests and exam simulations. These courses not only prepare candidates for the exam but also provide a Certificate of Completion for 35 hours of project management training. This certificate is required by the PMI in order to register for the PMP Exam.
The latest changes to the PMP Certification Exam took effect on August 31, 2011. As a result of these changes, online training providers such as PMChampion.com have to change the content of their courses.
Every few years, the Project Management Institute (PMI) performs a study to determine the roles and responsibilities of today's project managers. The findings are then used to update the Project Management Professional (PMP®) Certification Exam. In this way, PMI ensures the PMP Exam is a reflection of what project managers actually do in the field.
The latest changes to the PMP Certification Exam took effect on August 31, 2011. As a result of these changes, online training providers have to change the content of their courses. For instance, the online training packages provided by PMChampion.com have been updated to reflect recent changes to the PMP Exam content. The online courses provided by PMChampion.com cover all PMI requirements. These packages include videos and exam simulations provided by OSP International LLC, a Registered Education Provider (R.E.P) of the PMI. A series of 10 new videos have been added to the existing video list. In addition, the Exam Simulator has been updated to match the content of the new PMP Exam. For instance, For more information refer to http://www.pmchampion.com
###