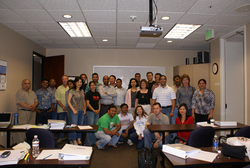 It observed immense change in my training life. I have met variety of cultures and expertise in fields. The learning environment was so impressive and instructor Aditya Chinni was like a friend to all PMP candidates. Call him when ever we have questions and he has tons of patience to explain same topic again and again with different examples
Los Angeles, CA (PRWEB) July 10, 2009
Efficient Project management professionals and certified professionals are scarce in corporate America. CertSchool is proud to announce that it achieved a great feat of 50+ PMP Certifications in single month. June 2009 is the greatest month in CertSchool's history, where 50+ participants successfully completed PMP Certification using CertSchool's new blended learning programs.
CertSchool the leader in online instructor led project management training is now offering blended Online Classes for project management and PMP Certification, to its participants. Blended programs consist of Audio download, Video reviews, practice questions, and many more. Blended learning is the latest trend followed by many universities and is a favorite type of learning in today's environment. With CertSchool's blended programs the same PMP Certification preparation class content is available to download onto desktops, or to play it on any mobile player like iPods, iPhones or Blackberry devices.
Based on popular demand of CertSchool participants, CertSchool offers PMP preparation programs in three formats - Project Management Self Study for PMP Certification, Instructor led online courses (ILO), and 5 day boot camps. Using desktop sharing and voice over IP and telephony technologies CertSchool ILO project management training is popular and cost effective.
Online courses or online classes are key advantages of CertSchool. CertSchool, one of the pioneer training institutes, started offering online classes in 2000. They started offering java training over the internet using Yahoo Chat in year 2000 even way before desktop sharing technologies boomeranged into the market. Now CertSchool is specialized in project management training and offers prep courses for PMP Certification. CertSchool is PMI recognized REP to provide authorized training that offers required 35 PDUs (Professional Development Units - required education to write the PMP Certification Exam). CertSchool's experience in PMP certification starts from PMBOK version 2 and that continued to PMBOK 3 and PMBOK 4. In fact CertSchool was one of earliest adopters of PMBOK4 and coaching / mentoring aspirants from May 2009 onwards to attempt the new version of the exam which just released in July 2009. CertSchool training offers all latest trends in remote learning, Audio download, video reviews, and Instructor led web based training, practice questions, and unique mentoring programs. The best part of it is that these top notch services are unbelievably low at $500 or less price range. We are calling this as unbelievable just because of the quality of the service and the profile of instructors. CertSchool's lead instructor and founder is from America's top consulting firms and has more than 18 years of management experience and studied at Stanford University and has multiple advanced project management certificates. Many project managers successfully complete the training and successfully get PMP Certification every month.
You can see here what successful candidates say about our PMP certification training:
Greetings from the East Coast, Thank you Aditya and Anjali for your help, instructions, notes, practice exams, support and inspiration to pass PMP Certification. I think you guys are a good team and great teacher; you have inspired me a lot to take this exam in a short time of preparation. Especially for me, coming from a non IT sector.
Zahoorul Ansari , PMP
"I was in search of an intensive PMP course that did not require many hours of pre-study and physical presence in the class room. I found this at CertSchool and was very happy with the class. Instructor was so much cooperative and efficient especially when considering how hard and detail oriented a subject PMP can be. This course does exactly as advertised and I achieved my key goal of passing the exam at the end."
Rikta Vakharia , PMP
"CertSchool provided the ultimate environment for fast track learning in exquisite set up. They got only the BEST and amiable trainer with a wealth of knowledge. CertSchool have developed a PMP Course learning system which endow with high results."
Junaid Mustafa, PMP
"It observed immense change in my training life. I have met variety of cultures and expertise in fields. The learning environment was so impressive and instructor Aditya Chinni was like a friend to all PMP candidates. Call him when ever we have questions and he has tons of patience to explain same topic again and again with different examples"

Hello Aditya and Anjali,
Another PMP graduate from your "Cert School Factory". Glad to report...I cleared my PMP exam as well...I took it earlier today and passed (thank GOD). I believe today is the last day to take PMP exam in PMBOK 3rd edition.
Few of my observations (quick feedback):

The exam was not as bad as I thought...mostly all of the topics were covered in the class those we discussed and compared to real project management scenarios. I wish I got 'Proficient' instead of Moderately Proficient' in all of the process groups but I haven't done extensive reading apart from the class. I directly went to the exam from the class. I'm glad that I could pass the exam just based on the class. It is actually more FUN in the exam center... taking the real test than those mock tests in the class.
VIJAY MIRIYALA , PMP
"I found the PMP course to be intense but it achieved it`s objective of accomplishing the PMP qualification. I did also provide a good insight into the PMI processes and I brought away some useful learning points to apply to my daily work."
"The training and training environment were of the maximum standards and I will strongly recommend it to my colleagues and friends."
Lee Hunter, PMP
Aditya and Anjali,
I passed my PMP certification exam yesterday; I cannot thank enough for all the support from you. I will definitely recommend cert school when I come across someone looking for training. Apart from the certification I got lot of knowledge about project management. The example you talked in the class and you personal experience is wonderful help. Right now I'm utilizing few of your templates. Thanks for every thing you have provided in the class.
Thank you,
Satish Kandi, PMP
"The PMP course was the most intensive learning experience. As this is a cramming course so I have to be prepared for long days and nights!! The tutor was a knowledgeable project manager who was well versed in the way PMI. The course itself is well designed to get you through the exam. Many thanks to Aditya for organizing a great PMP certification program for his help and guidance in passing the exam."
Rakesh Seth, PMP
"I am really impressed with great instructor, concentrated learning, flawless environment - just what is required!" PMP is a great course to get you ready! Aditya and Anjali know Project Management and PMBOK extremely well.
Steven T. Anastos, PMP
Do you have any question about PMI's PMP certification? Don't hesitate; just contact us using a web form at certschool.com, we will be pleased to answer your questions and tell you more about our best PMP course packages, PMP exam practice questions and training material.
Yes, we can confidently say CertSchool is a leader in instructor led online project management training and offers more qualified PMP certified project managers. See how you can benefit from this wonderful program and make progress in your project management job. Call us at 888.369.1221 and also get enrolled into free iPod give away programs or you might win our award winning project management training for free.
###