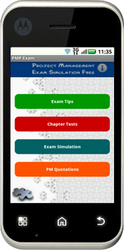 Project Management is something that everyone can relate to; be it for renovating your kitchen or building a new Power Plant. Our goal is to provide better tools for aspiring project managers
New York, NY (Vocus) November 1, 2010
Today PMChampion.com, a leader in creating iPhone and Blackberry applications for the PMP Exam preparation, announced the release of their first Android app called PMP Exam Simulation. The content of this application is similar to an existing iPhone app available with the same title in Apple's App Store. PM Champion also announced their plans to release, in the upcoming weeks, four other Android apps geared towards PMP certification. These applications will include sample tests, exam simulations, reviews, tips and process lessons.
In addition, PM Champion announced the development of a Free Online Tool available at project-management-processes.com. This new tool will help project managers understand the Project Management Processes of the PMBOK Guide. The PMBOK® Guide is a document published by the Project Management Institute (PMI®), in an attempt to standardize generally accepted project management practices and to promote a common vocabulary within the project management community. This document forms the essential body of knowledge required to pass the PMP certification exam.
"Project Management is something that everyone can relate to; be it for renovating your kitchen or building a new Power Plant. Our goal is to provide better tools for aspiring project managers," says Mike Mirshams, Managing Director of PM Champion. 'In order to attain that objective, the specific knowledge areas of project management have to become more accessible and easier to relate to; Smartphone applications can play an active role in making this goal possible.'
PM Champion offers online training courses for the PMP Exam. These training courses include 35 hours of video created by OSP International LLC, a Registered Education Provider (R.E.P) of the PMI. The courses not only prepare candidates for the exam but also provide a Certificate of completion for 35 hours of project management training. This certificate is required by the PMI in order to register for the PMP Exam.
In today's fast-paced world, finding time to complete everything on our "to do" list is becoming more and more challenging. Fortunately, modern technology is making things a bit easier. With an increasingly wide-range of iPhone, Blackberry and Android applications, companies are in a much better position to increase their productivity, efficiency and knowledge base. Take for example, calendar applications that help workers stay on top of deadlines and meetings. How about the use of applications geared towards helping co-workers with project collaborations? Today's Smartphone applications even consist of programs that can track the progress of a project, update a team on project changes, and even enable workers to share project documentations. Smartphone applications have made the world of business more convenient, easier and faster.
All that said, one might wonder how applications can help individual employees in their career planning and advancement. New educational applications are perfect tools for self-improvement. A good example of this is the use of applications to prepare for the Project Management Professional (PMP®) Certification Exam. Today, companies insist on having PMP-certified project managers. Passing the PMP certification exam is a first step towards responding to companies' needs. Smartphones, such as iPhone, Blackberry and Android are excellent tools for studying for the PMP® exam.
# # #