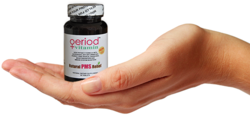 Most women should be incorporating more calcium into their diets, especially if they're suffering from period pain woes
Los Angeles, CA (PRWEB) January 29, 2013
For women seeking a long-term treatment option for their period pain, a natural solution for PMS might not always seem like the best choice. With such a surplus of over-the-counter medications and pain pills available for women with severe menstrual cramps, bloating, fatigue, and other PMS symptoms, nutrients and minerals like calcium and magnesium might seem to pale in comparison.
However, new research has demonstrated that calcium and magnesium could help women ease through their menstrual cycles, especially those who suffer from severe PMS cramps. What's more, calcium and magnesium offer better long-term solutions, as they're safe to use over a lengthy period of time. Unlike pain medications, which have very limited short-term use, calcium and magnesium doesn't harm the liver and other bodily processes.
"For women looking for the best PMS supplement, they'll want to ensure that the ingredients include calcium and magesium," says Uka Tumur, co-founder of natural PMS supplement Period Vitamin. "Period Vitamin is an example of a natural supplement that contains higher levels of these important nutrients, both of which work together to ease cramps and other PMS symptoms."
So just what is this research on calcium, magnesium, and PMS – and how can a natural supplement like Period Vitamin help women suffering from moderate to severe PMS?
According to an article in prestigious publication The Wall Street Journal, experts were cited as claiming that adult women under 50 need about 1,000 milligrams of calcium a day, the amount found in three or four glasses of milk. However, many women fall short of these guidelines, which contributes to osteoporosis as well as increased PMS symptoms (http://online.wsj.com/article/SB122937831273108391.html).
"Articles like these help demonstrate just how vital important nutrients like calcium are to women's overall health," Tumur, a holistic health expert and supplement developer, explains. "Most women should be incorporating more calcium into their diets, especially if they're suffering from period pain woes."
In addition to calcium, magnesium has also been shown to produce many beneficial results for women with severe PMS symptoms. In a study from the University Centre for Adaptive Disorders and Headache at University of Pavia, Italy, women in one group were given magnesium supplements, while the other group was given placebos. Over the course of two months, women who received magnesium supplements reported an easing of their PMS symptoms, while women in the second group continued to be affected by severe menstrual cramps. The data, according to researchers, seems to indicate that magnesium supplementation could represent an effective treatment for major PMS symptoms (http://www.ncbi.nlm.nih.gov/pubmed/2067759) .
While Tumur is not surprised by these findings – she ensured that Period Vitamin contained calcium and magnesium to help combat severe PMS symptoms – she is also quick to point out that women should not rely on just these two nutrients for help with their premenstrual cycles.
"Nutrients like calcium and magnesium don't exist in a vacuum," she points out. "They need other ingredients to increase their efficacy, which ensures that users are getting the maximum benefit from these powerhouse nutrients."
One of these ingredients is Vitamin D, which The Wall Street Journal has cited as a vitamin that's crucial to the absorption of calcium. Vitamin D – also referred to as "the sunshine vitamin" – is also a proven mood-booster, which may help many women suffering from the adverse emotional effects of their premenstrual cycles.
Instead of taking a cocktail of supplements, Tumur recommends that women looking for natural solutions for PMS pain turn to a supplement like Period Vitamin, which contains these three key ingredients, as well as additional nutrients that have been proven to aid in minimizing common PMS symptoms.
About Period Vitamin:
Period Vitamin was created in 2008 by a team of holistic experts with many years of experience in research the highest quality herbs, vitamins, and minerals. The makers of Period Vitamin are driven by a single goal: to provide women with the ultimate period pain relief they need to lead fulfilled and happy lifestyles. By providing women with high-quality PMS supplements, the makers of Period Vitamin are helping women live a fulfilling and active lifestyle, free from PMS pain. Experience what Period Vitamin is all about at http://www.periodvitamin.com today.
Contact: Uka Tumur
Phone: 888-889-5689
Email: CustomerService (at) PeriodVitamin (dot) com
http://www.periodvitamin.com