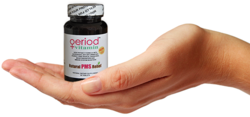 "By offering a natural PMS supplement that's backed by multiple studies and independent research, we hope to offer women everywhere the chance to sustain long-term health in a natural and effective way,"
Los Angeles, CA (PRWEB) October 19, 2012
When it comes to treating PMS symptoms like menstrual cramps, bloating, emotional mood swings, and a variety of other period pain woes, many women rely on over-the-counter pain pills and prescription medications to treat the symptoms. However, new research and studies have indicated that natural PMS supplements may offer women identical – if not superior – PMS pain relief.
Period Vitamin, a new and natural PMS supplement that contains a unique formula of vitamins, minerals and herbs designed to relieve period pain symptoms, has compiled many of these intriguing studies. Designed by two supplement experts who battled with their own PMS symptoms, Period Vitamin promises to offer women a bevy of choices with regards to period pain relief.
"When it comes to treating period pain, many women feel like they can only choose between over the counter pain medications and prescription pills," says Uka Tumur, co-founder of Period Vitamin. "
"By offering a natural PMS supplement that's backed by multiple studies and independent research, we hope to offer women everywhere the chance to sustain long-term health in a natural and effective way," she adds.
Prestigious universities and research facilities around the world have conducted many of these studies. In one such study conducted in Italy – the first to look at the effects of a dosage of Vitamin D on menstrual cramps – researchers enrolled 40 women between the ages of 18 and 40. Half of the women received a single, high dose of Vitamin D five days prior to the expected start of their next period; the other half got a placebo. After two months, the women in the Vitamin D group reported that their period pain scores decreased by 41 percent, on average. Women with the most severe pain experienced the greatest amount of relief.
In another study, researchers from the University of Iowa (in conjunction with Harvard University) confirmed that natural PMS supplements high in vitamins thiamine and riboflavin – also known as Vitamins B1 and B2 – can reduce and even eliminate some of the biggest emotional symptoms associated with the menstrual cycle. These symptoms can include mood swings, irritability, anxiety, and even depression.
Research has also shown that when combined with Vitamins B1 and B2, Vitamin D can reduce fatigue and increase energy levels. It even acts as a hormone, which can help with troublesome acne breakouts that occur right before the first day of the menstrual cycle.
Given all this new research, it comes as no surprise to the makers of Period Vitamin that vitamins, herbs, and minerals can be so effective at treating and even eliminating the biggest period pain woes.
"It's delightful to see major universities confirming what we here at Period Vitamin have already discovered," says Tumur. "It's our hope that this will show more women that they don't have to rely on toxic prescription medications and over the counter pain pills to get the period relief they need.
"Instead, period relief is just as simple as taking a natural PMS supplement like Period Vitamin," she adds.
As more studies are being released on a daily basis, it's estimated that the natural PMS supplement will continue to see exponential growth, especially as more universities and research facilities discover the period relief that can be offered through minerals, vitamins, and herbal remedies.
"Our clients are looking for a better way to simultaneously treat PMS symptoms and promote long-term health," says Tumur. "Period Vitamin offers a comprehensive and proven approach to relieving PMS through the power of vitamin supplements."
About Period Vitamin:
Period Vitamin was created in 2008 by a team of holistic experts with many years of experience in research the highest quality herbs, vitamins, and minerals. The makers of Period Vitamin are driven by a single goal: to provide women with the ultimate period pain relief they need to lead fulfilled and happy lifestyles. By providing women with high-quality PMS supplements, the makers of Period Vitamin are helping women live a fulfilling and active lifestyle, free from PMS pain. Experience what Period Vitamin is all about at http://www.periodvitamin.com today.
Contact: UkaTumur(at)PeriodVitamin(dot)com
Phone: (888) 889-5689
Fax: (888) 726-9262
Email:CustomerService(at)PeriodVitamin(dot)com
http://www.periodvitamin.com