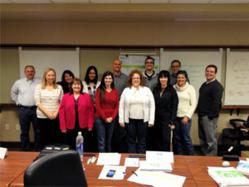 Some REPs such as PMstudy provide money back guarantees, which add to the popularity of the courses
Phoenix, AZ (PRWEB) April 23, 2013
In its most recent Pulse of the Profession report, the Project Management Institute (PMI)® said that for the majority of PMO managers "the skill sets of their project and program managers were a top concern." PMI creates and conducts the PMP Certification exam that is required to become a certified project manager. Having the certification assures employers and clients that a project manager has the expert level skills needed to successfully deploy and manage projects.
Obtaining this certification can be tough, because the PMP exam is known to be rigorous. For busy project managers with tight time limits taking a formal PMP Training or PMP boot camp is the best way to prepare for their project management certification.
Although almost all PMI approved Registered Education Providers (R.E.P.) offer PMP Certification classes to the public, not all courses are equal. Aspirants need to do the research, and choose the program that will work best for them. Notably, there are PMP training providers that offer exam prep courses, or boot camps, specifically designed for project management certification and include help with the exam application process. These PMP Certification classes are popular, because they provide an effective way to study for the PMP Exam. Some REPs such as PMstudy provide money back guarantee, which add to the popularity of the courses.
One of the major advantages of exam preparation courses is that they reduce the amount of time a professional needs to study. For example, PMstudy's popular 4-day PMP boot camp features the option of taking the exam the day after the exam prep course or boot camp ends.
In addition to being time consuming, studying for the exam can be difficult. Some of the material is difficult to remember, and some of the concepts are challenging to grasp. Expert faculty members can teach tips and tricks that will help aspirants retain the information, relate it to real-life situations, and memorize key terms. During a four-day exam prep class or boot camp the better trainers provide study materials that will make it easier to recall this information during the exam.
For the more tech savvy professionals, a few REPs include free podcasts, simulated practice tests, and mobile apps which power a fast learning curve. These are worth looking for by project managers who want to maximize down time opportunities for their study.
When a professional begins to fill out the certification application with PMI, he or she will notice that applicants are required to have either a bachelor's degree, with at least three years of project management experience with 4,500 documented hours of project management experience, and 35 hours of project management education, or a high school diploma, with at least 7,500 documented hours of project management experience, and 35 hours of project management education. Some REPs provide approved Professional Development Units (PDU) that can be used to fulfill some or all of the 35 hours of the project management education requirement. PMstudy's course provides 40 approved PDUs, 35 of which can be applied to the exam qualification and 5 can be saved toward fulfilling the Continuing Certification Requirement (CCR) of 60 PDUs over a three-year period. PDUs can be earned through "Continuing Education" activities and through "Giving Back to the Profession" activities. PMstudy also offers a free Risk Management course that earns a certified professional 20 PMI PDUs.
On 31 July 2013, PMI is adding a tenth Knowledge Area and five additional processes to the certification exam in order to align it with the newly released PMBOK® Fifth Edition. That is going to lengthen the exam making it more difficult to pass. Therefore, many experts are recommending enrolling in an exam prep course and taking the test before July 31.
To see how one REP helps students prepare for PMP certification check out http://www.PMstudy.com