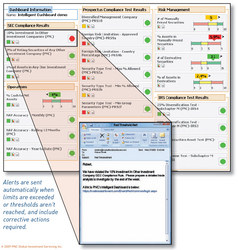 A high level of transparency and governance is critical for fund firms to protect shareholders and maximize returns
Wilmington, DE (PRWEB) March 23, 2009
PNC Global Investment Servicing announced today a new service for fund accounting and administration clients and prospects called Intelligent Dashboard. This software-as-service tool simplifies fund oversight by organizing and storing essential data and documents from multiple sources to deliver fund-critical metrics via a secure Web site. It is powered by integrated technology from Coates Analytics, which PNC acquired in December 2007.
PNC's Intelligent Dashboard offers a consolidated source of key business driver measures and benchmarking as well as monitoring and automatic client alerts when pre-defined thresholds are crossed, allowing for early detection of potential issues when results deviate from client expectations. Visual performance indicators are simple and intuitive, focusing a client's attention on the areas that require guidance. Multiple views are available for compliance, treasury, and service-levels, with customization to deliver data based on specific client preferences. The dashboard is automatically updated without the need for clients to collect and manually report information.
"A high level of transparency and governance is critical for fund firms to protect shareholders and maximize returns," said Frank Coates, president, Coates Analytics, a PNC company. "However, the associated collection of the necessary information can be time-consuming and costly. By offering Intelligent Dashboard to fund accounting and administration clients, we can ensure they receive immediate delivery of the most essential data in a format that is easy to understand. In addition to providing the data, we work with the client to identify and define thresholds to develop pre-approved remedies that launch immediately if there is a problem with any criteria."
The dashboard's intuitive design eliminates the need for complex spreadsheets and individual manipulation of data. All parties see the same results in easy-to-read fuel gauges and traffic light indicators. The dashboard also offers the ability to easily and quickly add or update measures as regulations and reporting requirements change.
PNC Global Investment Servicing is a leading provider of processing, technology and business intelligence services to asset managers, broker/dealers and financial advisors worldwide. PNC Global Investment Servicing offers fund accounting
and administration, custody, transfer agency, alternative investment, subaccounting, managed account and wealth management reporting services, representing more than $2 trillion in total assets.
The PNC Financial Services Group, Inc. is one of the nation's largest diversified financial services organizations providing retail and business banking; specialized services for corporations and government entities, including corporate banking, real estate finance and asset-based lending; wealth management; asset management and global investment services.
# # #