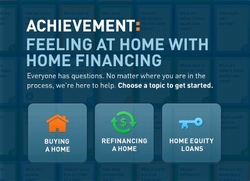 Pittsburgh, PA (PRWEB) June 1, 2010
PNC Mortgage, a division of PNC Bank, NA, today announced a new online resource to help consumers make more informed decisions about selecting mortgages, refinancing their existing mortgage and weighing the benefits of a home equity loan or line of credit. The new site is available on the Web at http://www.pnc.com/homelendingcenter.
"The mortgage world has changed dramatically over the past several months, and PNC's new mortgage site gives consumers a variety of information and tools to make sound borrowing decisions," said William Schumer, senior vice president of marketing, PNC Mortgage. "From first-time home buyers to homeowners considering refinancing or obtaining equity credit, easy-to-understand information about a number of solutions is available to help them achieve their goals."
The website offers consumers comprehensive resources, with access to interactive financial tools, including loan calculators and video educational materials. Borrowers can visit the site to:

Evaluate various types of mortgage loans, payment terms and rates, such as traditional fixed and adjustable-rate mortgages, FHA and VA loans and other specialty mortgage options;
Calculate a mortgage to help them determine how much house they can afford or compare a home equity loan or line of credit to determine the type of credit that best fits their needs; and
Obtain step-by-step guides on the mortgage process and the documents they will need to enhance the application and closing process.
In addition, the site offers consumers access to mortgage experts who can answer questions or begin the loan process. Links and referrals on the site provide contacts to local PNC Mortgage loan officers located at 2,600 PNC Bank branches or 150 loan centers throughout the country.
"Spring and summer are ideal times for first-time homebuyers to evaluate their borrowing options, or for homeowners to decide the best time to refinance or consider the type of home equity credit will help them achieve their goals," said Schumer. "Everyone has questions about the mortgage loan process. PNC responded with a simplified borrower experience to help make it easier, with a no-surprise approach to learning about, shopping for and obtaining a mortgage, refinance or home equity line or loan."
PNC Mortgage, which serves customers through more than 2,600 PNC bank branches and a nationwide network of 150 retail mortgage offices, ranks among the nation's top retail mortgage lenders and is part of PNC Bank, NA, a member of The PNC Financial Services Group, Inc. (NYSE: PNC).
The PNC Financial Services Group, Inc. (http://www.pnc.com) is one of the nation's largest diversified financial services organizations providing retail and business banking; residential mortgage banking; specialized services for corporations and government entities, including corporate banking, real estate finance and asset-based lending; wealth management; asset management and global fund services. Follow @PNCNews on Twitter for breaking news, updates and announcements from PNC.
###