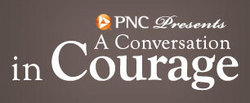 The speaker series offers employees and the public an opportunity to share in the rich story of the civil rights movement and to recognize its part in American history.
Pittsburgh (PRWEB) February 4, 2010
Civil rights leader Julian Bond and celebrated former LPGA golfer Renee Powell will share their stories of perseverance and achievement in "Conversations in Courage," The PNC Financial Services Group, Inc.'s sixth annual Black History Month speaker series.
Details of their contributions to the civil rights movement and new entries from the most recent "Returning to Roots of Civil Rights" bus tour underscore experiences highlighted online in words, photos and video via a special web site -- http://www.pnc.com/diversity.
"Great companies encourage and value diversity," said Marsha Jones, chief diversity officer, PNC. "A large part of the value PNC brings to our customers and communities is an unwavering commitment to and a steadfast belief in the power of diversity and inclusion."
Jones added, "The speaker series offers employees and the public an opportunity to share in the rich story of the civil rights movement and to recognize its part in American history. The important steps taken by the historical pioneers of the movement were aimed at laying a foundation for an inclusive culture to be enjoyed by all Americans."
The public is invited to attend two free events as part of PNC's speaker series:

Renee Powell - Feb. 10 at 8 a.m. in downtown Pittsburgh at the newly opened August Wilson Center for African American Culture: Ms. Powell will pay tribute to her late father William Powell, the only African American to design, build, own and operate a golf course. As a young child, Ms. Powell learned her love of golf from her father. She turned pro in 1967, and was the second of three African-American women to ever play on the Ladies Professional Golf Association Tour. Since then, Ms. Powell has championed the sport for underserved children in the United States and abroad. RSVP by Feb. 8 to: corporate(dot)events(at)pnc(dot)com
Julian Bond – Feb. 17 at 8:30 a.m. in Washington, D.C. at the Washington Post Community Room: While a student during the early 1960s, Mr. Bond helped found the Student Nonviolent Coordinating Committee. An accomplished civil rights organizer, legislator and author, he is current chairman of the board of the NAACP. His writings include many books of poetry and articles in numerous publications. RSVP by Feb. 12 to: artpc(at)washpost(dot)com
Besides Ms. Powell and Mr. Bond, long-time civil rights activist Rev. Samuel "Billy" Kyles will be speaking to gatherings of PNC employees in Chicago, Detroit and St. Louis.
More information about the speakers can be found at PNC's Black History Month website. Each event will offer individuals who attend a chance to enter a drawing to win two free tickets to the June 2010 "Returning to the Roots of Civil Rights" bus tour. In its ninth year, the nine-day tour visits landmark cities of the American civil rights movement, and participants have the opportunity to meet many key figures in the movement. For the eighth consecutive year, PNC will be the corporate sponsor of the bus tour.
Over the years, PNC's speaker series and the bus tour have enabled many to share in the rich history of the civil rights movement. The PNC web site highlights that experience with new journal entries and photos from the most recent bus tour. Among the features are an essay by a journalist whose young nephew and niece traveled on the tour with him and a short story by a writer who expresses the wonder of meeting everyday people who played an important but often unrecognized role in the movement.
Their contributions complement existing writings, audio journals, interviews, photos and video images drawn from the speaker series and bus tour. In addition to details of this year's speaker series, the site also contains information on PNC's diversity initiatives and programs.
The PNC Financial Services Group, Inc. (http://www.pnc.com) is one of the nation's largest diversified financial services organizations providing retail and business banking; residential mortgage banking; specialized services for corporations and government entities, including corporate banking, real estate finance and asset-based lending; wealth management; asset management and global fund services.
# # #