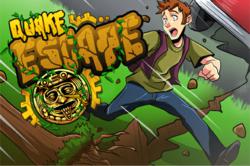 We are excited on the number of fans we have already on our facebook fan page in anticipation for the game
(PRWEB) February 09, 2012
P&D Capital proudly presents their very first casual game application called Quake Escape will be available next week on Wednesday, February 15th, 2012 for the iPhone, iPod Touch and the iPad platforms.
Quake Escape was inspired by the many theories and Mayan predictions of worldly changes during 2012. As a result, the game takes place during the shift of our planet causing natural disasters throughout the world. Earthquakes are just the beginning of further catastrophes. Such powerful devastations cause other aftershocks, chaos, as well as wreckage from Tsunamis.
In the game, players will experience different settings of events, demanding a call of action. There are 13 unique campaign levels to complete. In each of the levels players must help the character survive the events and escape alive. Within the game, the events are broken down to 3 types of settings, which are:
Calling for Rescue:

Avoid harmful falling objects
Collect survival objects as much as possible
Collect batteries to "charge up" a phone
Find a phone hotspot with the charged up to make a rescue call
Fleeing to Safety:
Run to safety
Collect survival energy bars
Avoid obstacles that come across a player's path
Make it to safety before time runs out
Driving to Safe Haven:
Drive a vehicle out of harm's way
Collect gas tanks to maintain enough fuel to drive
Avoid obstacles that will damage car and decrease fuel
"We are very excited on the number of fans we have already on our facebook fan page in anticipation for the game," says team of P&D Capital. Daniela Ortiz, Partner of P&D Capital, added on to say, "we cannot wait for everyone to play Quake Escape, it really is a fun game!"
The game will sell for $0.99 for the iPhone and iPod Touch, and $1.99 for the iPad.
About P&D Capital Co.
P&D Capital is an interactive media company focusing on casual gaming, headquartered in New Jersey. The company was founded in 2011 with the intent to become the leader in causal game entertainment. Get the latest news about P&D Capital and the games it offers on the facebook fan page at http://www.facebook.com/pndcapital
Contact:
Media(at)PandDCapital(dot)com
###