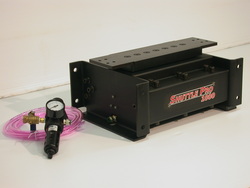 Our air bellows technology allows the Shuttle Pro to operate through several years with only minimal maintenance
Jackson, MI (Vocus) March 5, 2010
Midbrook, Inc. of Jackson, MI, has announced the release of their new material handling conveyor called the "Shuttle Pro Conveyor" for the Stamping and Material Handling Industries.
The Shuttle Pro Conveyor is a pneumatic transport (shaker) conveyor that is driven by patented air bellows technology. This technology allows the Shuttle Pro to reliably and efficiently move scrap, finished products, or other material. With its universal t-slot mounting and cross bar supports, the Shuttle Pro can attach to any stamping press or other area where material needs to be moved, and uses vibratory/shaking motion to convey materials down the length of single or multiple trays.
What makes the Shuttle Pro unique compared to other conveyors is the manner in which the vibratory/shaking motion is generated. Most scrap conveyors utilize pistons for this purpose. Instead of a motor, the Shuttle Pro relies on the use of air bellows to provide motion. As a result, the Shuttle Pro is able to avoid many of the maintenance issues that face other material handling conveyors.
"Our air bellows technology allows the Shuttle Pro to operate through several years with only minimal maintenance," said Shuttle Pro Product Manager Jenny Erhardt.
The Shuttle Pro uses only compressed air and is also 100% oil-less and seal-less. This leads to significant reductions in maintenance and operating costs, as operators no longer need to worry about replacing these items.
To fit the wide range of applications for which material conveyors are required, Shuttle Pro is available in multiple sizes. The Shuttle Pro Model 450 has a push force of 450 pounds to go with a tray weight capacity of 112.5 pounds and a part load capacity of up to 225 pounds. This makes it suitable for small and medium duty applications.
For operators who need a more powerful conveyor solution, the Shuttle Pro Model 1000 is also available. This model has a push force of 1000 pounds, a tray weight capacity of up to 250 pounds, and a part load capacity of up to 500 pounds. This increase in conveying power makes this model a perfect solution for heavy duty applications.
This variation in size enables operators to choose which size conveyor is necessary for their application and not concern themselves with altering a conveyor device that is not well suited to the task at hand.
Each unit also comes equipped with its own air hook-up, filter/regulator and airline so it is simple for the operator to install.
Perhaps the most intriguing aspect of the Shuttle Pro is its price. Due to the simplified system of patented air bellows, the cost of a Shuttle Pro matches up very favorably with many systems used for similar applications. "The Shuttle Pro is priced well below its competitors," said Erhardt. "When you combine the "pennies per day" operating costs and the additional maintenance cost savings by being 100% oil-less and seal-less, Shuttle Pro is a highly effective solution for business owners looking to cut costs."
Midbrook is the minority owned, world leading provider of process specific, high volume aqueous part cleaning systems, sealed solvent cleaning systems, water bottling equipment, and medical decontamination equipment.
For more information about Midbrook, visit http://www.midbrook.com or call 1-517-787-3481. For more information about Shuttle Pro Conveyors, visit http://www.shuttleproconveyor.com.
###