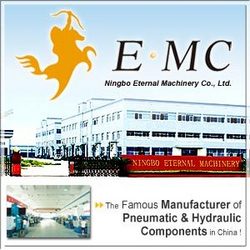 In the recent past EMC has given export a major focus and is already seeing some of the results. This year, we expect our exports to grow further, especially to the U.S.A
(PRWEB) October 11, 2007
Eternal Machinery Co., Ltd (EMC), China's most forward thinking pneumatic components & hydraulic components manufacturer has quietly carved a niche for itself and won a commendable market share in the field with amazing speed.  This year, EMC won and unprecedented honor. EMC became an authorized manufacturer of pneumatic & hydraulic components by USCEA (US-China Exchange Association). They are the first company in their field to win this honor. EMC is not only changing its own destiny of itself but also leading the Chinese pneumatic & hydraulic components industry into a new era.
EMC started 22 years ago with a small scale factory in Ningbo, China. Today, the company takes a leadership position in the manufacturing pneumatic components & hydraulic components such as solenoid valves, air filters, air cylinders, hydraulic cylinders, pneumatic cylinders, gas springs, fittings, moulds, coils, mufflers , and more. Informal calculations show EMC is probably the largest pneumatic & hydraulic cylinders and pneumatic components manufacturer and exporter in Greater China and has sales agents in many countries. Besides, EMC is the preferred pneumatic components brand for western markets.
After two decades of steady growth, undoubtedly EMC is still one of the China's fastest growing components manufacturer and exporter. The company has already established marketing channels around the globe in major markets such as the U.S.A., South America, Europe, East-South Asia and Mid-East. "In the recent past EMC has given export a major focus and is already seeing some of the results. This year, we expect our exports to grow further, especially to the U.S.A," said the General Manager Sunny Lou.
To serve its customers better, EMC has already adopted professional automatic production systems and testing machines such as CNC machine and data control lathe. With about 30 quality control specialists, all products are tested in the factory before being dispatched. Currently the company is in the process of building up a top-flight technological platform to produce the best-quality pneumatic & hydraulic components, on par with its counterparts abroad.
EMC R&D team goes to great lengths to improve the company's competitiveness. It has not only reduced its production costs by carrying out most of its production processes in-house, but also has constantly developed innovative new models, as well as improved technical skills with the aim to appeal to both current and new customers' needs.
For EMC, management is also a major daily concern. "Never put off till tomorrow what you can do today. The secret for EMC succeess is to solve customers' problems immediately," Ms Lou continued. "At the same time, we help staff to improve their technical skills and we are willing to share our experiences with our world-wide sales agents."
On the other hand, the change function challenge for many manufacturers is to make the transition from being supplier-centric to becoming user-centric instead, Therefore, EMC not only provides existent pneumatic & hydraulic cylinders and components (see product focus as below). It also fabricates custom-made products to suit specific requirements of their clients. EMC has been successful in developing customized solutions for a number of companies. That's one reason EMC earned USCEA's first authorization for manufacturing in pneumatic & hydraulic components.
Product Focus
The lists below are for standard pneumatic cylinder and solenoid valve specifications. OEM and ODM is more than welcome to meetr special needs. Please visit the company web-site for more product information. http://www.emc-machinery.com | http://www.allproducts.com/manufacture97/emc-pneumatic
Pneumatic Cylinder

Standard Type: ISO-6431, VDMA-24562, DIN-24335
Normal Bore Size: D32~D200
Normal Stroke Size: 5mm~2000mm
Acting Type: Double acting (normal), single acting
Piston Rod: Single rod (normal), double rod
Fixing Type: Basic, FA, FB, CA, CB, LB, Y, I, Bearing Type, Floating Type
Life Cycle: 3,000,000 times (bore size < 60mm), stoke 600km (bore size > 60mm)
Solenoid Valve (V5221E2-08)

Standard Type:Ways:5/2
Normal Bore Size:1/4"
Normal Stroke Size:Medium:Clean air
Acting Type:Working Pressure:0.15~0.8 Mpa
Piston Rod:Max Working Frequency: 5 times/ per second
Fixing Type:Protection Type: IP65
Life Cycle:Other Sizes:1/8", 3/8", 1/2",5/3"
###