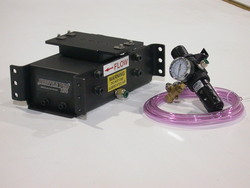 The Shuttle Pro 150 was designed with small press operators and other small applications in mind, where light duty, single tray shakers will be the perfect solution for their material conveying needs
Jackson, MI (Vocus) June 18, 2010
Midbrook, Inc. of Jackson, MI, has announced the release of a new model in their line of pneumatic material handling conveyors for the stamping and material handling Industries known as "Shuttle Pro Conveyors."
The Shuttle Pro Conveyor is a pneumatic transport (shaker) that conveys a variety of materials efficiently and reliably. With its universal t-slot mounting and cross bar supports, the Shuttle Pro can attach to any stamping press or other area where material needs to be moved, and uses vibratory/shaking motion to convey materials down the length of a tray.
In a short time, Shuttle Pro Conveyors have become a popular solution for the needs of the stamping and material handling industries. The 450 and 1000 models, so named for their push force capabilities, are able to cover a wide range of applications; however, there was untapped potential. The model 450 is capable of light duty work, but there was no specific light duty unit for such applications. As a result, some small business owners who wanted the reliability and ease of maintenance of a Shuttle Pro Conveyor for their light duty work had to settle for a model 450, investing extra capital for the increased power that they didn't need. Midbrook quickly recognized this problem, and the new model 150 is the answer.
The Shuttle Pro model 150 was created specifically for light duty applications, with a push force of 150 pounds, a tray weight capacity of 37.5 pounds, and a part load capacity of 75 pounds. This, in addition the easily manageable size of the unit (11in x 11in x 6in), makes it an ideal fit for those who desire a 100% oil-less and seal-less pneumatic conveyor, but hesitate to pay for a model 450 with extra power they won't need. "The Shuttle Pro 150 was designed with small press operators and other small applications in mind, where light duty, single tray shakers will be the perfect solution for their material conveying needs," says Shuttle Pro Product Manager Jenny Erhardt.
While the model 150 is certainly smaller than the other Shuttle Pro units, it still enjoys the same benefits. The oil-less and seal-less design means that operators can further reduce their maintenance costs by no longer having to purchase these replacement items.
Midbrook is the minority owned, world leading provider of process specific, high volume aqueous part cleaning systems, sealed solvent cleaning systems, water bottling equipment, and medical decontamination equipment.
For more information about Midbrook, visit http://www.midbrook.com or call 1-517-787-3481. For more information about Shuttle Pro Conveyors, visit http://www.shuttleproconveyor.com.
# # #